The Goddess Test by Aimee Carter was one of the goodies I received from the NetGalley. It's actually the first book I've read from NetGalley. As a lover of Greek mythology and a new fan to the Young Adult genre, I couldn't help but want to try this out. Before we hit the review, let's take a look at the blurb from Ms. Carter's website:
Every girl who has taken the test has failed.
Now it's Kate's turn.
It's always been just Kate and her mom–and now her mother is dying. Her last wish? To move back to her childhood home. So Kate's going to start at a new school with no friends, no other family and the fear her mother won't live past the fall.
Then she meets Henry. Dark. Tortured. And mesmerizing. He claims to be Hades, god of the Underworld–and if she accepts his bargain, he'll keep her mother alive while Kate tries to pass seven tests.
Kate is sure he's crazy–until she sees him bring a girl back from the dead. Now saving her mother seems crazily possible. If she succeeds, she'll become Henry's future bride, and a goddess.
If she fails…
This was one of those books I had mixed opinions about. By the time I reached the end, it felt like a 3 to 3.5 out of 5 star read. I liked the premises of the story but wasn't at all fond of the characters–except James.
We have Kate who agrees to spend six months in Hades in order to receive a little extra time with her mother who's knocking at death's door. Plus, if Kate passes a series of tests, she becomes the Queen of the Underworld and is granted the gift of immortality. One of the things I like about this concept is Kate isn't Persephone. Though we have the old Hades (aka Henry), it's not about taking an old myth and changing it up to make it fresh. Everything about this story is new and original. Awesome!
For me, the shortcoming came in the delivery… namely the personalities and the way the characters interacted with one another. Looking at my notes, I see I made quite a few comments about the weirdness of the people and their behavior. Yet by the end of the novel, I understood why the situations were so odd. The thing is, Ms. Carter did an excellent job staying true to the storyline. All the information was revealed at the appropriate time. I knew what the main character knew, and the world beyond was hidden. Kudos to Ms. Carter for staying in deep POV. Unfortunately, I had a hard time getting past the oddities that came with the lack of outside knowledge. So much so that it made the story unbelievable.
As for the main character, Kate was a cranky one which made her a bit unlikeable. However, I could see someone not having the best of personalities when dealing with a mother on a deathbed. That was reasonable, but add that to her many, many not so wise choices and overboard compliancy, and it didn't make her a very appealing character, at least not at the beginning. Really her story was sad, but the way her character was portrayed,  I couldn't muster the empathy to care about her situation.
Then there was Hades, God of the Underworld. Let's call him Henry, shall we? 🙂 He rather lacked spunk. For the most part, he was alive but not living… just biding his time until the end. It was unfortunate, because Hades typically has a tendency to really steal the show. As it were, he didn't have enough spirit left in him for me to care about his situation. Sorry about the broken record bit.
Let's end on a positive note. Though this is classified as a young adult (YA) novel, at least I believe it is, it really had more of a New Adult feel to it. Kate is 18 and in high school, but she's not dealing with adolescent issues. She's beyond that and transitioning to the next stage of her life–adulthood. In many ways, she's already there, and her attitudes about life and responsibilities reflect that. It was nice to see a character leave her childish ways behind and embrace the future with maturity.
So… not so great characters but interesting storyline.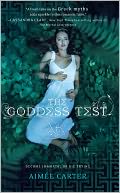 You can find The Goddess test by Aimee Carter at the following locations: