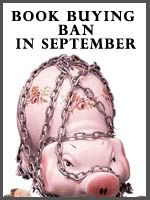 So I'm surfing websites and notice many bloggers are on this book buying ban kick.
A Girl Reads Books
hosts this event. A Girl Reads Books has this to say about the event:
So you ask what is a Book Buying Ban? Well when one gets a TBR as excessive as mine is, sometimes they need to sit down and just read the books they have without adding anymore to it. This lets them enjoy the beauty of the wonderful books in their bookshelves, rather than adding more and forgetting about the older books. (That's why I'm doing this right, Carin?)
So for the month of September, I am not going to "buy or acquire" any books. AND because misery loves company I am inviting you all to join me.
If for whatever reason you think you should be on a Book Aquiring Ban or you want to be on one, then join me.
Okay onto the "guidelines":
1. I am not setting the limits, you are! I know some people have pre-orders they want, or book club books, so you can set your own guidelines. Whether it be limiting yourself to one new book, or no new books, just let us all know in your sign up post.
So I was at the Book Faery's blog reading her post on her ban and how she was selling books. I hit the link and surf. I'll be honest. Relieving her of some of her books was totally on my mind. Tori (AKA the Book Faery) has done quite well. I counted only eight (8) books left on her list. And I thought, that's a good idea. I should do that. Except I'm hoarding my books. :-/
The thing with Tori's book list, it triggered my need to buy books. I've put it off for a while. I'm still suffering from guilt after my book spending sprees last month. Yes, there were several. But now, the guilt is fading a bit. I want a fix!
I turned to my husband and contemplated. He stared straight ahead, fixated on the PS3. I'm a kept woman, you see. <clears throat> Okay, I'm a stay at home mom with no outside income. No time like the present. "I want to buy some books."
He glanced my way then returned to the game. Not sure what that meant, but I was not deterred. I stared at him. And stared. And stared. Well, you get the picture.
Occasionally, he looked my way between pounding the controller and started like he was surprised I still watched him. Finally, he paused the game and gave me his attention. "What?"
"I want to buy some books."
He chuckled and refocused on the game at hand. "You already have a bunch of books you haven't read."
True. I'd relegated to putting unread books in a large box and only graduate them to the bookshelf once I'd read them. My box has overflowed. Doesn't stop me from wanting more though. I'm greedy like that. I pulled up my to-read list and counted the highlighted ones (the ones I really really want now!) "I want to buy five books."
"So buy them."
"I don't have any money." Remember, unemployed, starving writer here.
His fingers paused over the controller. "I just deposited money into your account. Did you spend it already?"
"No."
His fingers once again clicked steadily on the controller. "So buy the books."
I like money in my account. I'd much rather spend money in his account. After all, if I spend mine, I'd have to beg him for more later. Yeah, illogical, but work with me here!
So, I had a few options:
Hound my husband until he gives me his money for books
Dip into my own funds (which he already gave me) to buy books
Join the Book Buying Ban
Okay, I can give this Book Buying Ban a try. September only, right?
My guidelines are simple:
No buying books in September. NONE! Not even the ones on my highlighted list which include:

"Mockingjay" by Suzanne Collins (yeah that one hurts)
"Dead in the Family" by Charlaine Harris
"The Darkest Lie" by Gena Showalter
"Dark Peril" by Christine Feehan
"Double Cross" by Carolyn Crane (another one which makes me want to back out of this)

Only enter giveaways I absolutely positively want to read the book right away. Not just "hmm…maybe if I start another unread box I'll have room for it." Giveaways I may enter are for:

The books listed above
Books I've read so many kickass reviews for they're irresistible.
Since this is more a money thing for me, my incentive is to look for more efficient ways to acquire books. Like:
Trips to the library for books I don't feel a need to own but want to read
Borrowing and swapping books
How about are? Are you jumping on the Book Buying Ban wagon?