Normally, I try to do an introduction, but C.A. Kunz gives one far better than I could possibly. So  I'll just let them have at it. 🙂
***********************
Hello Blogosphere,
First of all we want to thank Reena Jacobs for allowing us to infiltrate her blog and plant this little number on here! So, I guess a little introduction is in order here. Well we are Carol Kunz and Adam Kunz, the mother and son author duo known as C.A. Kunz. Our debut YA Paranormal/Fantasy novel, The Childe, was published back in February of this year, and is the first book in a planned five book series. The Childe introduces the reader to our main character Catherine Colvin, AKA Cat, a fifteen-year-old girl entering her freshman year at Astoria High School. Like everyone else, she has her typical high school drama like a mean-spirited math teacher, a Goth clique that seems to dislike her instantly, and a popular trio, known as the Trifecta, who wants to be her to be their BFF. Unbeknownst to Cat though, she is also metamorphosing into the Childe, which only adds more complications to her list.

A Little Bit More About Us:

A total love of all things supernatural is what inspired this fifty-four year young mom and her twenty-six year old son to put this story on paper.
Carol Kunz was born in New Ferry, England. Her interest in the supernatural was first sparked upon meeting a ghost at the age of eight. As a teenager, she was always fascinated by the mythology behind vampires, werewolves and witches. Being an avid reader, Carol finds it easy to spend several hours wrapped up in a great fantasy novel.
Adam Kunz was born in Newport News, Virginia. Growing up, he was a huge fan of creature features and books about things that go bump in the night. When he is not busy writing, Adam enjoys his job at a certain theme park in Orlando, Florida as a décor consultant. This job brings him face to face with all sorts of nightmarish creatures, especially when he decorates the haunted houses for the park's annual Halloween event.
Now, Onto The Meat And Potatoes Of Our Guest Blog Post! We're Going To Spill Some Tea (Gossip and Details) About Our Writing Journey Together As A Mother And Son Author Duo. So, Without Further Ado…Consider Our Tea Spilt:

Carol: We started our adventure back in March of 2009, when Adam called me and said we were going to write a book together. Adam knew that my dream of writing a novel was something I had often talked about, but always put on the back burner as my 'someday project'.
Adam: I knew my mom had this dream, and I wanted to write a story that I had already vaguely outlined. When I called her, I had decided that I wasn't going to take no for an answer, and to my surprise she immediately said yes. I sent an email that night to her with the story idea and a rough outline. Then as she began writing down her own ideas, adding to my outline, and our story The Childe was born.
Carol: Our initial outline was only thirteen chapters. We agreed to each do six chapters, (alternating every two chapters) and then work on the last one together. Our first rough draft was 194 pages. Recently, I perused our first draft, and boy was it ROUGH!
Adam: Our first get-together, after finishing our six chapters each, lasted a whole week while I was off from work. We added, changed, disagreed, agreed, and then added some more. It was definitely an experience neither one of us had ever experienced. We ended the week with more notes of what we needed to do to improve our chapters, and then spent the next few months doing just that.
Carol: We had numerous mini meetings over many weekends, where we were holed up in my spare room (office), being fed by my wonderful hubby, and Adam's awesome dad, Bob. Bob is also our brilliant illustrator. Stephanie, our daughter, was the first illustrator, but she moved and it was really difficult being so far apart. Then Bob stepped in and took over with a talent that Adam and I didn't even know existed in him.
Adam: Yeah, good old Dad stepped in and saved the day, or days, as it were. Over those few months we worked very hard, calling each other everyday (thank goodness we have an unlimited family phone plan, haha). We finally (and I do mean finally) finished our novel in about nine months, and then shipped it off to one of our many editors/critics. We had a total of four people help us with this phase, and they were such a help indeed. Amanda Lynch, Charlie Steffy, Tim Coleman, and good old Dad, all gave us their honest opinions and much needed critiques.
Carol: Finally Adam was ready to format and publish our novel. The day he received the first proof he called me and told me how awesome it looked. He lives about 45 minutes away from us, and when he said he couldn't bring it until the weekend, I almost had a meltdown. So jealous was I that he could hold our accomplishment, but I had to wait.  Now is the time I tell you that I have a very caring and loving son. One that wouldn't dream of letting his mom wait a couple of days to see our creation. He tried to sneak into our house that evening, which is a little hard to do because of our three noisy, four legged babies (dogs), and brought me the book. I walked around with it all night, and it even laid next to my pillow that night while I slept. I couldn't believe I had finally held my dream in my hands. Next to having my children, this was one of the best days of my life. Oops, sorry, have to mention marrying the hubby 35 years ago, don't want him to think it wasn't one of the best days of my life.
Adam: Yes, mom's right, it's practically impossible to sneak into their house with those four-legged alarms going off. I loved watching the joy on my mom's face when she held our book in her hands, as both of us chanted 'we wrote a book'. We've come a long way from March of 2009. We actually started working on the second book in The Childe series about five months ago, and now it's been in the hands of our editing team for a few weeks now, so it will probably be published within the next couple of months or so. Also, I am working with my friend (an engineer and aspiring musician), Lee Wilson, on putting together a companion soundtrack for our series. Volume one of the soundtrack spans the first two books in The Childe series, and will contain 11 (or more) full length songs. The songs have full lyrics and were inspired by the words of the novels. They span several genres from pop, rock, r&b, punk, classical, and country. The Childe companion soundtrack will be available soon.
Thinking Of Writing Your Own Story…Well, Here Are Some Encouraging Words That Helped Us Get Through Our Tough Times:
If you have a story to tell, believe in it, and write it down. There will always be people who are critical of your work, listen, if it makes sense, learn from them.  If you are rejected, do not become disheartened! It only takes one person to accept your work. Remember, there are people who have been rejected numerous times, but persevered, and are now read worldwide.  Live your dream! Believe in your story and in yourself, you can make it happen!
Here Are Just A Few Places Where You Can Connect With Us:
Goodreads
Facebook (book page)
Facebook (author page)
Twitter
blog/website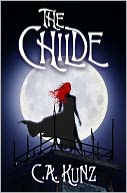 The Childe (Book One in The Childe Series) is available at these locations:
Amazon.com (Paperback edition)
Amazon.com (Kindle edition)
Amazon.co.uk (Paperback edition)
Amazon.co.uk (Kindle edition)
Barnes and Noble (Nook edition)
Barnes and Noble (Paperback edition)
Well this has been tons of fun, and thank you again Reena for having us on your wonderful blog! Happy Reading Everyone! 😀C.A. Kunz (Carol and Adam Kunz)