Okay… being a psychology major, I'm totally into classical conditioning. But is it me? Or has something gone horribly wrong with the dog in this experiment? My husband's dog is starting to look like Kujo these days with all the facial hair falling out. Hubby says it's allergies, but I'm starting to wonder…
Well, that's another story. Today we have Thom Brannan with us as he shares a bit about his writing.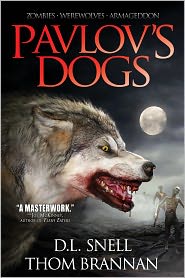 WEREWOLVES
Dr. Crispin has engineered the saviors of mankind: Pavlov's Dogs, a team of soldiers capable of transforming into fearsome beasts. But when Crispin and his team welcome a new talented neurotechnician to the island, Dr. Crispin quickly realizes his masterwork has fallen into the hands of a man he does not trust.
ZOMBIES
Back on the mainland, Ken Bishop and his best friend Jorge get caught in a traffic jam on their way home from work. There's a wreck up ahead. And something worse. The first sign of a major outbreak—and Ken and Jorge are stuck in the gridlock. They quickly realize they not only need to escape, but they also need to save as many people as possible on the way.
ARMAGEDDON
Now Dr. Crispin and his team must make a terrible decision. Should they send the Dogs out into the zombie apocalypse to rescue survivors? Or should they listen to the new neurotechnician, who would have them hoard their resources and post the Dogs as island guards?
Available at Barnes & Nobles || The Book Depository || Amazon
CAUTION: I TEND TO RAMBLE
Thom Brannan here. I'm one of the authors of Pavlov's Dogs, with D.L. Snell, and would like to speak with the readers of this blog for a moment about my start in writing in general, Pavlov's Dogs in particular, and why I should probably never do this.
I got my start with horror, even though I really want to be Robert B. Parker, he who created Spenser and Jessie Stone and Sunny Randall. Most of my early reading was icky boy stuff, like all the Robert E. Howard co-authored Conan stories, or Stephen King, or Isaac Asimov. Of the three, I didn't think I could write a sword-and-sorcery thing, because while I had my fair share of being in fights (I was a minority in my school along the Texas/Mexico border) I didn't have a lot of experience winning. And the science fiction was great, but I didn't feel smart enough to make things work in a story. I was keenly aware of the difference between Star Wars and Star Trek, and I didn't want to have to deal with people telling me I was wrong, physics doesn't work that way.
But I knew what scared me, and other people. That, I had a solid hold on.
The time came to write something for English class, and my teacher (Mrs. Isela V. Gonzalez) had us working on something for The Canterbury Tales. Everyone was working on their character and the tale they were going to tell on the road with the other pilgrims, and I sat in class all week, wondering what the hell I was going to do. That Friday, I went home and looked at a 3-D poster on my wall of Dracula, flanked by a wolf and a bat, and I couldn't stop smiling.
I would write a vampire story.
And so I did, pounding it out on my dad's Commodore-64 all day Saturday. The stack of dot-matrix printed paper I brought into class was… hefty. And it was only marginally good, but I had been bitten by the bug. Unfortunately, the symptoms went into remission rather quickly, and I didn't write again for a very long while. In the intervening years, I picked up a book called Double Deuce in the ship's library of the USS Los Angeles (SSN-688) and devoured it cover to cover. I recognized the names on the cover, Spenser and Hawk, from the television show, Spenser: For Hire. I was hooked. When we pulled back into port, and I had time, I raided the book stores for the rest of the Spenser series.
This, this crime business. I loved it. And after finding that Parker had followed in the footsteps of Raymond Chandler and Dashiell Hammett, I had to read them, too. I had loved the Spenser television show, as well as The Equalizer, and I will but only briefly mention The Green Hornet Greenway show, because I have been known to run off at the mouth about that quite a bit. I loved it.
So when I sat down to write again, it was with a character that would fit in with those other Private Eyes I had read so much about: the Continental Op, Spenser, Philip Marlowe, Sam Spade, the Hornet. Except…
Things kept happening to him in the stories that never happened in The Maltese Falcon, or The Big Sleep. There was always something in the story that went bump in the night, and finally I just stopped fighting it. Horror Noir it was.
Fast-forward a decade, and now I have a book on the (virtual) shelves with D.L. Snell called Pavlov's Dogs. But even now, I'm dragging my past with me. The book's main regular-joe is a guy named Ken, and he's read the same stuff I have, and he likes to see himself as a kind of character like Spenser, or even Conan. He's got his own sense of wrong and right, and he acts accordingly, regardless of the personal cost. His best friend and employee Jorge isn't any of those things, but he's good on the inside, where it counts. Even though it's hard to see through his layers of bullshit.
I should say D.L. Snell had a very large hand where it comes to actually fleshing out these characters. Without his clear vision and constant reminders that we need these characters to be people on the page, not just in my head, who knows how this would have turned out?
Thanks for letting me spend some time on your blog, and I hope it was okay, that I didn't bore you. I tend to ramble sometimes, and that's why I should never be allowed to have a blog. You should see me as I type this, all wincing and rubbing my hands together, trying not to run over my allotted space and just talk, talk, talk. It's very difficult. I'm mouthy.
I remain,
Thom Brannan
About the Authors
THOM BRANNAN (est. 1976) has been a submariner, a nuclear operator, an electrician and now works on an offshore drilling platform. He lives in or around Austin, Texas, with his lovely wife, Kitty, a boy, a girl, a cat and a dog.
D.L. SNELL is an acclaimed novelist from the Pacific Northwest. Anthologies include Pocket Books' Blood Lite series, edited by best-selling author Kevin J. Anderson. Snell's first novel, Roses of Blood on Barbwire Vines, also attained critical acclaim from popular novelists such as New York Times bestselling author Jonathan Maberry. Visit his website at dlsnell.com.
Follow the rest of the tour!