What? DNF? Okay. Messenger by David Arnett is my first DNF review. Normally, I don't review works I did not finish, but this work has enough merit, I still want to share it with readers. This was one of the the NetGalley books I received. Before I hit the review, the blurb from Goodreads:
By all accounts, Jake Daniels should have died when his SUV collided head-on with a moving truck. Now the vision of the mysterious woman who saved his life is consuming his every thought. A formerly nonreligious person, Jake becomes obsessed with learning more about angels, near-death experiences and spirituality. He leaves his fiancee and art career on hold to travel the country searching for the mystery woman, who he believes is an angel. As he s drawn into a series of earth-shattering angel and demon experiences, Jake discovers he s being prepared for an imperative task to step into world affairs to prevent the clash of civilizations and reverse the violence and hatred of the post-9/11 world. As his search for answers leads him around the world and across faith traditions, Jake questions: Why him? Why now? And is it too late?
A riveting novel about the urgent spiritual and political questions we face in the 21st century, Messengers will leave you reconsidering your outlook on life and death and why we are here.
Okay, this novel started out fantastic! It read like a memoir and immediately had me engaged in the story. I loved his initial journey and truly wanted to find out what happened next. What would he find when all was said and done?
The first 3rd of the book had just enough mysticism to pique that side of me which loves the supernatural, but not too much to be unbelievable. Absolutely fantastic. The tidbits of information Mr. Arnett provided had me wanting more. I learned about Angels, different religions, Christian history, and cultures I'd never even heard of. If history had been taught the way Mr. Arnett presented it, I would have become a historian. Needless to say, the first 3rd of the book pushed a 5/5 star rating, and I feel smarter just for having read it.
So if it's so great, why didn't I finish it. The book had a definite shift around the 1/3 mark. The story was still rich in cultures, religion, and such, but the supernatural reached a level which didn't hold my attention for some reason. I guess it was just too fantastical despite the main character (Jacob) making valid points of why I shouldn't discount his story. The shift was just too sudden for me to continue to believe in the story, and as such, I lost interest.
After working on this book for over two weeks, I've decided to throw in the towel.
Do I recommend it? Based on what I've read (I'm at the 50% mark), I have to say yes. The beginning was excellent. EXCELLENT!!! And if you're big into the supernatural (Angels versus Demons in a fight to save humanity), then the shift likely won't throw you like it did me.
If I were willing to dedicate another two weeks to this book, I'd finish it. Maybe I'll come back to it another time. For now, it just doesn't fit into my schedule.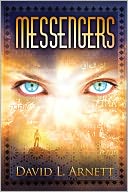 You can find Messenger by David Arnette at: