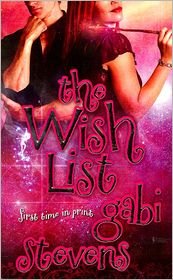 The Wish List by Gabi Stevens was one of the first books I won, perhaps even THE first. I entered the contest not because I was seriously interested in the book but because I could. Here's the thing. I never expected to win it. My winning streak consists of a couple of dollars from scratch tickets.
Well, surprise, surprise. I won this little baby from Dark Faerie Tales. I stuck it on a shelf and felt guilty for not reading it. Later other winning books would keep it company. 🙁 shame on me. I quickly learned to enter ONLY contests for books which really interested me. Doesn't make up for winning The Wishlist and promptly forgetting about it though.
After reading a brief review by The Geeky Book Blogger, I finally decided to crack this book open for the first time. The teaser from Ms. Stevens' website.
When Kristin Montgomery discovers her three aunts are fairy godmothers and she's next in line for the job, her uncomplicated life disappears like magic. No, not like magic; it is magic. Kristin not only has to deal with burgeoning magical powers, but also a reluctant arbiter, a selfish sprite, and a suave French sorcerer. It's bad enough there are no books or classes she can take to learn magic, but someone is out to take over the Arcani world.  Kristin has to trust her heart and her instincts to keep herself and the ones she loves out of danger.
Bit surprise for me, but the chapter 1 title hooked me. Yeah, that's right. Didn't even get into the book and I was already digging it. "HOW TO BE A FAIRY GODMOTHER: Never Reveal Yourself to Your Charges." So, I continued. 🙂
Though the storyline had an interesting premise, much of the world seemed very similar to the concept of Harry Potter books. I kind of liked that. 🙂 Main difference was the main character (MC) wasn't a boy discovering the world; it's a full grown woman. Despite being a contemporary fantasy romance (can I add romance? That'd make three genres. Is that okay?) :), it had a women's fiction (whoops! there's another genre) type feel to it. If it were made into a movie, my husband would call it a chickflick. Is that what chicklit is? This MC had some not so bright moments like this, particularly in the beginning.
I have to admit, I wasn't fond of writing styles. The MC thought things were strange but went around acting as if everything was fine. "Hmmm. That's strange. I wonder who left the door wide open. Oh well, I guess I just need to be more observant next time." No…I don't think so. It gave a hollow, forced feel. This MC definitely had some not so bright moments, particularly in the beginning.
Anyway, let's take a look at the cover art. A bit sparkly. Fanciful. Just a lot of fun. Right? Well, I'll tell you something! The cover had me fooled. I was completely taken off guard by what the inside held. EROTICA!!! At least the first scene. Seriously, the cover looked so unassuming. I'm used to sexy manmeat displayed in all their masculinity in my racy romance books. Not this innocent stuff.
I feel like I should say something more about The Wish List, but really I've got nothing else for ya. The plot was so-so. Nothing spectacular. The bad guy was whom I suspected. Everyone I thought who'd fall in love fell in love. Everyone got their happy ending. Bottom line: the novel had enough going for it to keep me coming back from time to time, but nothing significant enough to keep me from feeling like I had ADD when I got distracted.
Moving on. The Wish List had quite a few great lines.
Great. She had put her life in the hands of a Spicoli.
Please forgive my rude and unacceptable disruption," said Jake and gave a little bow. (Not only adorable, but bravo for Zack for teaching his son manners!)
Celebrating love is always right.
Available at Barnes & Nobles || Amazon
|| The Book Depository || Kobo || iTunes