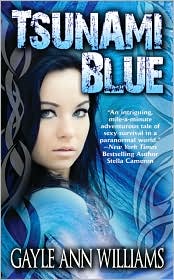 I'd wanted to read Tsunami blue from the time I first laid eyes on it. And it certainly didn't hurt that the book setting was in Washington. How I miss the PNW—the tourist places like Ocean Shores, the ferry to Canada or to the harbors, the natural springs in the mountains.
I entered two contests to win the book and won earrings both times. The guilt I feel about winning the same prize twice was horrible. Please take my confession and forgive me oh great cosmic contest being. Anyway, after the "double prize incident" I realized the right thing to do was quit being cheap and buy the damned book. The teaser from Gayle Ann Williams' website:
With her badass rain boots, her faithful dog, and the ability to predict the monster tsunamis that have reduced the US to a series of islands, Kathryn O'Malley isn't afraid of much. Cut off from all society, she takes to the airwaves as Tsunami Blue, hoping to save something of humanity as the world around her crumbles. But Blue should be afraid—because her message reaches the wrong ears.
Now she's the target of ruthless pirates known as Runners who want to use her special talents for their own profiteering—as soon as they can find her. Blue's only shot at survival lies with the naked stranger who washes up on her rocky beach. A man who might just be working for Runners himself. Torn between suspicion and attraction, the two will have to navigate a surging tide of danger and deceit if they hope to stay alive.
Right off the back, I loved the voice—slightly insane, but fully aware. I'm not surprised Dorchester scooped Ms. Williams up. It was also youthful, repetitious at times (you know how young folks are), but done in a way which added flavor to Blue. I totally loved having the inside track to Blue's mind. Her humor rocked!
Blue was cocky beyond reason. I kept expecting her overconfidence to get her into trouble; it did. 🙂 On the other hand, Blue was also very resourceful, almost to the point that even impossible situations were a breeze for her to escape. At times I wondered how anyone could be so lucky or capable. Blue reminded me of RPG (role playing games) with my ex-husband. During one particular episode, he was the GM and wanted my character to give up her life which was ripped from her. I didn't want to, and refused to follow the path he'd laid out for me. Eventually, he just killed off my character and that was the end of that. Game Over. The way Blue handled the situation, I thought it should have been Game Over so many times for her. But then, that would have been the end of the book.  🙂
So I skimmed through my notes on Tsunami Blue, and one question kept reappearing: Who was Gabriel Black? He was sexy and romantic in his own special way. And though Gabe was a huge mystery, I still trusted him. His sincerity and loyalty to Blue oozed off the pages, even if she didn't recognize it. Other times, he seemed like a lovesick stalker who's come up with the perfect dream life for his unwilling victim. Only thing, Blue seemed to be on board with playing opposite the lovesick stalker, at least through her actions. Gabe was also realistic. He reminds me of Bill Compton from the Sookie Stackhouse series by Charlaine Harris—tough when he needed to be, willing to fold his cards when in a no-win situation.
The story kept me going, the buildup was great! As much as I loved it, I have to admit the ending fell short. The villains offered little challenge—all bark and no bite. Still, the question "Who Was Gabriel Black?" continued to intrigue me. At one point Ms. Williams had me banging my fists. TELL ME! What is the secret? Spit it out dammit. When it was revealed, I couldn't wait to learn more. In the end, even that was anticlimactic.
Though the ending was less than I had hoped, the book kept me glued throughout. My summary? Tsunami Blue was an epic love story of hope.
Available at Barnes & Nobles || Amazon
|| The Book Depository