Stephannie Beman contacted me shortly after the Shout Out to Indie Authors. She was gracious enough to grant me an interview on ISBNs which was a convoluted mess to me. 🙂 Please welcome her as she de-mystifies ISBNs.
Thank you, Reena, for having me here to today.
Tell us a bit about your work.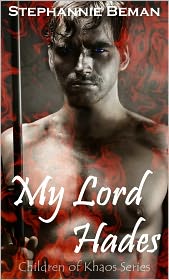 I decided to self-publish my novels in late 2009 after looking into the publishing industry and deciding I didn't like my options in that department. In January 2010, I created a small publishing company, Ruis Publishing, to publish my first novel, My Lord Hades, a paranormal romance which came out in June 2010 and a co-authored fiction under the name Timothy Reese Richards titled Footprints on the Beach that was published October 2010. Since then I have signed on one other author whose manuscripts I find to be quality work.
First things first. 🙂 What the heck is an ISBN?
ISBN is an acronym that stands for International Standard Book Number and identifies the one who holds the publishing rights. It can be a 10-digit or 13-digit number that is used by readers, booksellers, libraries, universities, wholesalers, and distributors to establish and identify the publisher of a book. Only books with ISBN's can be added to Book in Print which are sent out to said booksellers, libraries, universities, wholesalers, and distributors.
Where does one obtain an ISBN?
T here are over 160 Agencies worldwide, each agency being responsible for the publishers residing in their area. I bought my ISBN's at http://www.bowker.com, but http://www.isbn.org is another reputable seller. A word of caution, if you encounter an offer to purchase single ISBNs at special offer prices, you should be wary of purchasing from this sources because: 1) last I checked ISBN were not sold separately but in groups of 10, 100, 1000, etc.; 2) if source is listed as the publisher who bought the numbers, then you'll not be correctly identified as the publisher of record in Books In Print or any of the industry databases such as Barnes and Noble, Amazon, or those of wholesalers such as Ingram, because publishers cannot resell, re-assign, transfer, or split its list of ISBNs among other publishers–a guidelines that has been established to ensure the authenticity, accuracy and continued utility of the international ISBN standard; 3) there will be no change in the publisher of record for any ISBN in the block as originally assigned, therefore, searches of industry databases for that re-assigned ISBN will identify the original owner of that assigned prefix as the publisher rather than the second publisher (which would be you).
To fix this later can be expensive because you'll have to apply for a new prefix, have a new ISBN re-assigning to you, and potentially may lead to the application of stickers to books already printed and in circulation.
Are there any special criteria folks need to meet in order obtain an ISBN?
First, check with your state laws for establish your self-publishing business identity, every state is different. After you do this, create your self-publishing business identity, including the name of your "publishing house" (hint: don't make this your name) and the address and telephone number(s) you have chosen to use. These will be listed as your contact information in Books in Print after you apply for your ISBN registration. Go to http://www.bowker.com or http://www.isbn.org, fill out their application and you should receive your ISBN log fourteen days after they process your application.
What are the costs associated with ISBNs?
For a set of 10 ISBNs you are looking at about $280 including the set up fees, and when you purchase a larger block of ISBNs, the price per ISBN decreases. At the same time you might want to have your ISBN translated into a worldwide compatible bar code which allows your book to be sold through bookstores, online or off, or by distributors. Barcode scanning is a required step for many retailers in the sales transaction process for book publications and book-related items. You can obtain the barcode in several different formats: a film that can be "stripped" directly into your book cover art, an electronic file that can be incorporated into your electronic art, or a hardcopy that you can paste onto artwork. It can be requested directly online at www.isbn.org or www.bowkerbarcode.com. Barcodes usually cost less than $100. For a list of companies that provide barcodes, visit http://www.isbn.org/standards/home/isbn/us/barcode.asp.
I was told by a friend that works in retail that http://www.racoindustries.com/barcodegenerator/1d/isbn.aspx and http://www.tux.org/~milgram/bookland/ are also good Online generators for barcodes. And that a good one page guide can be found here: http://www.athleticaid.com/yaquinapress/barcode/index.html
I want to put my books out in eBook, print, and gobs of other formats. What are my ISBN considerations in this case? What should I consider when determining the number of ISBNs to purchase?
Some people have suggested buying 100, because the smaller amount of numbers reflecting badly on publishers. I suggest getting enough for what you have or think that you will use in the next five years. And remember you must apply a separate ISBN to each edition and format of the book you publish, for example, if you are offering the same title in a hardcover edition, a paperback, audio, e-book, etc. Each of these editions would require a separate ISBN. This enables a bookstore or customer to order the correct edition of the correct book. If you heavily revise a book, I'm not talking grammatical changes or punctuations, but changes to scenes, sentence structure, etc, or change its cover later, it will need a new ISBN. It is always best to select the block that will last you for a few years because you'll be able to maintain one publisher prefix, and minimize the unit cost per ISBN.
I see this thing called an ASIN on Amazon. How is that different from an ISBN?
The ASIN is an Amazon specific number that is used by the Amazon network to track its merchandise. It will not take the place of an ISBN, though some authors have used it as such with success.
Since authors can publish without an ISBN, what are the benefits of obtaining them?
To establish and identify the publisher of a book to booksellers, libraries, universities, wholesalers, and distributors. If you're not interested in your book going to any of these places, you don't need an ISBN. If you one day hope to see your book in any of these places, then you'll want an ISBN.
If you are going with a self-publishing company, the ISBN may be rented from or given to you by a self-publishing company that you print the book with, however, that doesn't mean you own the number. I'm sure there are those that will disagree with me about this, so here is the proof from R.R. Bowker where everyone eventually gets their ISBN's. "ISBNs cannot be transferred on an individual basis. If a self-publisher wants to be identified as the publisher, the self-publisher must get their own ISBN. A printing company or publisher services company cannot sell, give away or transfer one of their ISBNs to a customer…. The ISBN identifies the one who holds the publishing rights—that is, the publisher who should be contacted when ordering the book." This helps you and them "identify and circulate your books properly in the industry supply chain."
Any additional advice you might give in terms of ISBNs?
Once you've assigned an ISBN to a product, you need to file an "Advance Book Information" form (ABI) to submit to Bowker. You can also register your book information online at the BowkerLink Publisher Access System (http://www.bowkerlink.com). You'll have to register for a password to use the system. You can also use this site to change information about your books or publishing company (e.g., to change your address). They'll add your title to the database of record for the ISBN Agency. As a publisher you are eligible for a free listing in various directories such as Books in Print, Words on Cassette, The Software Encyclopedia, Bowker's Complete Video Directory, etc. Having your ISBNs does NOT guarantee title listings, you must submit the title information to get into the database. After you've received your ISBNs, you must then inform Bowker of your new title(s). Otherwise, your book won't be listed in Books in Print and other references — which means that it won't be listed on Amazon.com or BarnesandNoble.com, or be orderable through bookstores.
Thanks for giving us the lowdown on ISBNs. For more information, where might folks find you?
I can be found at http://stephanniebman.com or email me at stephanniebeman@aol.com. Also at http://ruispublishing.com, or email ruispublishing.@aol.com.
Thanks again for having me.
My Lord Hades available at Barnes & Nobles || Amazon
|| Kobo || iTunes || Smashwords