J. A. Belfield is back, and she's letting us pick her brain. 🙂 If you didn't read the juicy excepts she offered on Tuesday, check them out. Go ahead, we'll wait.
Good? Okay great. Then let's see what's happening with Ms. Belfield.

Tell us about your most recent publication.
Darkness & Light is a paranormal romance that deals with fate and destiny, and a healthy dose of werewolves. It's about finding yourself, about belonging, and, of course, soul mates.
Book Blurb:
Jem Stonehouse, a housewife with a neurotic husband bent on keeping her in line, dreams about werewolves in, what she believes to be, a bid to escape boredom.
Sean Holloway is a werewolf, living a charade within the human race, whose mind drifts to a bond he shares with a woman he hasn't met—at least, not in this lifetime.
Apart, the two are safe, but live unfulfilled lives.
Together, they'll become prey to rival packs, just as they have been for hundreds of years.
When their worlds collide, instinct takes over. Dreams become reality. Their renewed bond deepens. To keep history from repeating itself, Sean must teach Jem about his heritage, convince her of her role, and win her love.
Can Jem accept her destiny before it's too late, or is her inner wolf buried too deep to save her future with Sean?
How do you come up with your cover art?
I had the idea for the Darkness & Light cover art in my head from the moment I'd finished writing the book. I'd always wanted a duet of wolves–one black, one white–and I wanted them to appear entwined, until a friend of mine suggested positioning them in a yin yang style pose and agreed it could gel well with the storyline of the book. So, that's what I worked toward, and when I asked an artist (Pam Bitner) if she could work with my ideas, she said yes. Luckily for me, she got it right with the first hit (because she's awesome).
Awesome concept and I love the contrasting font on the background!
Which of your characters do you relate to most?
It's got to be Jem. Without a doubt. There's definitely a little piece of me in that woman, which is why I understand her so well.
How much of you/your life do you put into your stories?
I don't necessarily put my life into my stories … let's face it: I don't actually know any werewolves. However, I do put what I know of relationships into my stories. So relationships between friends are similar to ones I've directly experienced, or any romantic bonds are written from what I've come to understand of them, etc.
And I never base characters on actual people I know, and I don't set my stories in the town where I live (although I have sent them to places I've visited).
What are you working on now?
I could give you the list of stuff I flit between, but instead I'll just name my main current project. At the moment, I am working on the book #3 in The Holloway Pack Series. And that's as much information as I'm willing to divulge on that.
Give us a brief description of a story you have hidden in your skeleton closet? And will it ever see the light of day?
Hmmm, story in my skeleton closet? Possibly a piece of flash fiction I wrote that 100% reflected my mood on the day I wrote it. Nothing was going right, none of my words were flowing from my fingertips, and my head was on the verge of spontaneous combustion … so I wrote down how I get when I'm in one of my grouches, but it included a scenario with my husband, giving the reader a great view of exactly what he has to put up with when I get in a funk. I did post it to be read by a limited number of members on my critiquing site, but I will NEVER submit it for publication. The best thing to come from the story was, one of my readers garnered enough sympathy for my state of mind that they sent me Girl Scout Cookies and Mint Oreos, all the way from New York.
What is your character development process?
My character development process is: just write them. That's it.
I don't plot or outline. I'm a total pantser Any ideas for storyline formulate in my head and stay in my head. I usually have the opening, and I usually have the 'problem' my MC will have to face, and I usually have the end. Anything in between those is a void waiting to be filled. So, I start at the beginning, write my character as I see them in the opening, and then simply let them naturally develop from one page to the next, depending upon what my twisted mind decides to throw at them.
I can totally see that. Even with an outline, characters tend to have a mind of their own.
What's the hardest part of the writing process?
The transitions. As I only have certain aspects of the story in my mind when I start writing, finding the right fillers to get the characters from A to B without slowing the pace or boring the reader is my hardest part. That, and the fact my inner editor is a constant companion. I don't have the ability to slam out the words and sort out the edits in the rewrite. My mind insists on evaluating each and every word/sentence/paragraph/chapter AS I write. Sometimes I wish I could switch it off.
Do you have any advice for other writers?
So many give the advice to write what you know. My advice? Write what you love.
To me, writing is not a hobby, it is not first and foremost a job, it's not even a passion. To me, writing is an obsession.
It's a fact of life that the majority of the human race have vices. Writing is my vice.
In order for me to stay sane through this required element of my day, I have to ensure I get pleasure from it. If I'm writing something I can't relate to, or if I'm writing in a genre I avoid like the plague, the pleasure is gone. Besides, I'm a big believer that in order to ask others to love what you've written, you first have to love it yourself. Love your subjects and your writing should reflect that.
How about some quickies!
Pencil or Pen: Pen
Print or Cursive: Print
Pantser or Plotter: Pantser
Favorite Candy: Chocolate
Worst habit: Procrastinating
***************************
About the J. A. Belfield
One day, a character and scene popped into J. A. Belfield's head, and she started controlling the little people inside her imagination as though she were the puppet master and they her toys. Questions arose: What would happen if …? How would they react if …? Who would they meet if …? Before she knew it, a singular scene had become an entire movie. The characters she controlled began to hold conversations. Their actions reflected the personalities she bestowed upon them. Within no time, they had a life, a lover, a foe, family … they had Become.
One day, she wrote down her thoughts. She's yet to stop.
J. A. Belfield lives in Solihull, England, with her husband, two children, three cats, and a dog. She writes paranormal romance with a second love for urban fantasy.
Connect with J.A. Belfield on her Website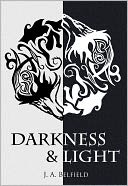 Grab your copy of
Darkness & Light by JA Belfield at:
Barnes & Nobles
The Book Depository
Amazon
Waterstones
WHSmith