It was the best of times. It was the worst of times. 🙂 Thanks for getting those lines stuck in my head, Julie Cross. haha
This year was full of great reads, but only a small collection hit 5/5 stars on my chart. For this giveaway, I'm offering them to you!
---
Best of 2011 Giveaway Hop (Dec 27 – 31)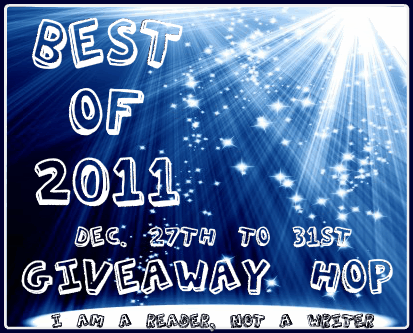 The year is quickly coming to an end. It's time to spotlight my favorite reads of 2011.
The Rules: The giveaway should be for one of the blogger's favorite reads of 2011. It can be a book that was released in 2011 or a book read in 2011. Alternately bloggers may include a list of favorite 2011 reads for the winner to choose from. Prizes may be provided as a gift card. No erotica (a reminder for me). This blog hop is sponsored by I'm a Reader Not a Writer.
I've opted to present a list for my wonder readers. One winner will have the opportunity to choose a book from my favorite reads of the year. All 5 star reads and highly recommended by yours truly.
Prizes (winner's choice)
Click on image to read my review
As always, entering is easy. 
You'll earn 1 point for completing the form.
An additional point for sharing the giveaway and leave the link (Twitter, Facebook, Blog, Linked, MySpace, etc.). *OPTIONAL*
Sign up for my newsletter for an additional 2 points. *OPTIONAL* See special incentive note below.
Comments are appreciated, but only entries from the form count.
Giveaway ends Saturday, December 31, 2011 at 11:59 PM ET.
Please read the giveaway policy for the nitty gritty.
Special note about my newsletter. Starting in January, I'm starting subscriber-only monthly giveaways in addition to the blog giveaways. If you're already a subscriber, you're already entered.
Not a subscriber yet? Subscribe to our newsletter here or fill out the form in the sidebar (upper left).