First off, I have to say, I wasn't a fan of Julie Kawaga's The Iron King (see review here). It's odd, because my daughters love the Iron Fey series. In fact, I think we have every one of Julie Kawaga's books. Well, it was with a bit of  apprehension I decided to pick up The Immortal Rules. I figured since it's a vampire book and not a Fey book, we might have a bit of a chance to enjoy the work. So the blurb from Goodreads: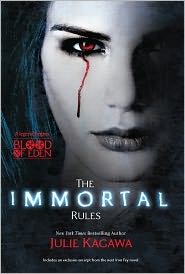 "In a future world, vampires reign. Humans are blood cattle. And one girl will search for the key to save humanity."Allison Sekemoto survives in the Fringe, the outermost circle of a vampire city. By day, she and her crew scavenge for food. By night, any one of them could be eaten.
Some days, all that drives Allie is her hatred of "them." The vampires who keep humans as blood cattle. Until the night Allie herself is attacked–and given the ultimate choice. Die…or become one of the monsters.
Faced with her own mortality, Allie becomes what she despises most. To survive, she must learn the rules of being immortal, including the most important: go long enough without human blood, and you will go mad.
Then Allie is forced to flee into the unknown, outside her city walls. There she joins a ragged band of humans who are seeking a legend–a possible cure to the disease that killed off most of humankind and created the rabids, the mindless creatures who threaten humans and vampires alike.
But it isn't easy to pass for human. Especially not around Zeke, who might see past the monster inside her. And Allie soon must decide what–and who–is worth dying for.
This book was supplied to me by the publisher through NetGalley.
Available at The Book Depository || Barnes & Nobles
This was NOTHING like The Iron King. I read online (maybe at Ms. Kawaga's website) she was reluctant to write a vampire book. OMG! I am SO glad she decided to take the leap.
I loved the main character, Allie. Bad ass. Yes, that's what she was. She was the type of girl who wasn't playing games. If she told me to get out of face for whatever reason, you better believe I'd do it, cause I'd know without a doubt, her next move would be to make me physically comply in the most unpleasant way. And the thing was, I'd deserve whatever she dished out. I love a gal who sticks to her guns!
Quite a few side characters in this book. I'm not going to go into them all, but if you were able to get over all the expendable characters in The Hunger Games, you should be fine with this book.
PLOT!!! Wonderful plot… always moving forward. I almost wonder if Julie Kawaga wrote this one by the seat of her pants. A lot of books start with an overall goal to achieve. This book sort of just moved along from incident to incident. I never really felt like there was an end goal for Allie other than to survive… and that gal was a survivor! Even though the book didn't seem to have an ultimate goal, pretty much all the main strings were wrapped up in the end. HOWEVER, the story didn't really end. New goals were created in the last few pages… something to look forward to in the next book.
Overall, great book. I'd say 4.5/5 stars. I'll definitely have my eyes out for the next in this series. In fact, I enjoyed The Immortal Rules so much, I'm going to give the next book in the Iron Fey series a try.