Hope you're enjoying the tour. 🙂
Welcome to the next stop on
The Truth about Lilly Barnes
Blog Tour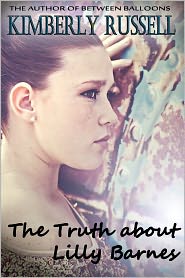 "Today is the day it is going to happen. I'm not melancholy or nervous. I just want to get it over with more than anything. Today is the day that I, Lilly Barnes, die." Lilly Barnes doesn't want to live anymore. She is prepared to leave her life, family, and more importantly, her best friend Buddy behind for good. But, why? What could be so horrible that it makes a young girl want to end her life? Find out in The Truth about Lilly Barnes.

Available at Barnes & Nobles || The Book Depository || Smashwords || Amazon
Ms. Russell gave me the opportunity to pick a topic for her to post about. I'm always curious about an authors inspiration. I asked her why she chose to write about suicide, and here's what she had to say.
Guest Post by Kimberly Russell
I decided to write about suicide because I think it is an immensely important topic. I read that suicide is the 11th leading cause of death in the U.S. (homicide is 15th). That's crazy to me! I also wanted to write about it because I don't think it is written about enough in YA, and it's obviously so important. I hope I haven't deterred anyone from reading THE TRUTH ABOUT LILLY BARNES, I promise it's not full of suicide statistics. J
I was also curious about what leads a person to suicide. I wanted to write about that deciding moment and what leads a person there. In Lilly Barnes, you find out in therapy sessions and backstories why Lilly wanted to harm herself. I can assure you, she has her reasons. I wanted to write about an everyday normal girl who was dealing with secrets; which were eating at her. It was important to me write about a 'normal' girl because I think there are so many teens who can identify with Lilly. One of my favorite reviews so far really understood what I was trying to get across to readers:
"My emotions while reading this book: Sad. Intrigued. Compelled. It's like seeing the world thru the eyes of a lost soldier of life. It's sad to think that there are a million "Lilly Barnes" out there. Physically fit, but emotionally broken. This book is a definite must read for teenagers out there who think that life is full of sh*t. It's not."
Thank you, Reena for letting me a part of your lovely blog!
Find Kimberly Russell Online!
Website: http://www.kimberly-russell.com/
Facebook: https://www.facebook.com/pages/Kimberly-Russell/257750867586271
Twitter: https://twitter.com/authorKRussell
Goodreads: http://www.goodreads.com/author/show/5124933.Kimberly_Russell
Giveaway Time!
Follow the rest of the tour!
2nd Ana @ Book Sparks (review and giveaway)
3rd Marissa @ For The Love of Film and Novels (Review and Guest Post)
4th Sydney @ A Case of Reading Insomnia(Review)
5th Maryann @ Chapter by Chapter (Review)
6th Allizabeth @ The Paperback Pursuer (Review)
7th Reena @ Reena Jacobs(Guest Post/maybe a review)
8th Sarah @ Breaking the Binding(Review)
8th Kate @ Froze8's Blog (Feature w/ excerpt and Giveaway)
8th Kate @ Literary R&R (Feature/interview and Giveaway)
9th  Rachel @ Stressed Rach (Review)
10th Louisa @ Words I Write Crazy (Review)
11th GMR @ Satisfaction for Insatiable Reader (Guest Post only)
11th Laura @ Owl Tell You About It (Review)
12th Lexxie @ (un)conventional bookviews (Review and Giveaway)
13th Channing @ A Book Without Pages (Review and Guest Post)
14th Paula @ Book Lover Stop (Review)
15th Lisa @ Nightly Reading (Review)
16th Ruth @ My Devotional Thoughts (Review, Guest Post and Giveaway)