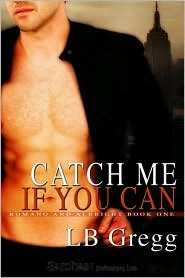 Now I'm not one to give reviews, but I thought this was worthy since it's my first M/M novel. I think I've done a good job here avoiding spoilers. These are just my general opinions about the reading.
So I've been de-virginized. I finished my first M/M novel—Catch Me If You Can by LB Gregg. I have to admit, it wasn't what I expected. I started reading this novel thinking it was an M/M Romance. Well, it wasn't. I'd categorize it as an M/M Mystery with mild romantic elements. I actually put it aside at one point because I was disappointed it lacked the romantic qualities I sought. That's not to say the writing wasn't fun. Just I expected something different. So here's my opinion of the book.
Mystery: Here's the thing, I'm a romance novel type of girl. I don't remember the last time I read anything non-romance. Anyway, I picked it up again and finished it. As a Mystery, it was pretty great to my untrained eyes. I had no idea whodunit until around two thirds of the novel. Even then I wasn't completely certain, just a hunch. Nice.
Humor: Quite a lot of humor; I laughed throughout the book. The internal dialogue was awesome—definitely my kind of entertainment with quite a few WTH moments.
Romance: This is where it faltered, but I get the impression it wasn't truly meant to be a romance. In my humble opinion, it barely pushed the meter. I was halfway through the book before the two heroes decided to give any clear clues about their attraction. Sure, there were occasional hints, but nothing really substantial. It's like looking at an attractive guy walk down the street and thinking hmm..He's kind of cute. Really means nothing in the end.
Eroticism: I have to be honest. It really didn't do it for me. I've never read M/M eroticism, but I've seen some racy scenes on TV which I loved. I don't know if it's because it's reading material and not visual stimulation which kept me from getting into the hot and bothered mode or not. I will say it was certainly interesting in a research type of way. I'm going to have to read a bit more M/M to see if it will actually get me excited.
Realism: I had a bit of problems here. I don't hang out in the LGBT community. I've known a few lesbians, but no openly gay men. So I wonder if gay men really act like the guys in the novel or were they just stereotyped. I always figured gay folks lived lives like everyone else with everyday personalities. The MC and his buddy Sheppard seemed a bit dramatic at times. They kind of reminded me of characters who would play on Noah's Ark—a show I only managed to get through two episodes. Then again, Dan seemed like an everyday guy I'd meet on the street with human motives. I liked him, and I could relate to him. So I wonder; were the guys in this novel authentic? If not, I'd love to read a book where the gay people truly act the way people in the gay community/world would act. Leave me a note if you have any suggestions.
The only true complaint I had with the novel was a couple of moments when I had no idea who was talking—tags just not properly placed. I made educated guesses about the speakers, and I suppose it didn't make too much difference as far as the story unfolded. Still, it would have been nice to know who said what.
Thanks for the read LB Gregg!
Available at Barnes & Nobles || Amazon || The Book Depository || Kobo || iTunes