Greetings! 🙂 and Welcome, Welcome! I hope you all are enjoying your holidays, shopping, and bargains. Are you up for a new release? Hope so, cause I am. You've just found the next stop on the Wicked Allure Blog tour.
Stick around, kick back, and enjoy!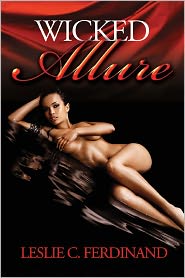 Title: Wicked Allure
Series: Wicked Allure, #1
Author: Leslie C. Ferdinand
Release Date: March 20th 2012
Genre: Romance, Erotica
Publisher: Self-Published
Ebook/Paperback/Hardcover
Pages: 287
Book Description: Three years ago, Madigan DeLeon walked away from Zachary Steele. Now, she's back in his life to help run her mother's sex club. Unable to resist, she is soon back in his bed. Her heart and body is fully engaged but her head is urging caution. Zach wants another chance and he'll let know one stand in his way, not even Madigan herself.
Available at: Barnes & Nobles || Amazon
|| The Book Depository || Kobo || Smashwords || LuLu (Hardcover) 
Giveaway Time!
November 26th
A Diary Of A book Addict
Simply Ali
Simply Infatuated
Amy's Book World
The Avid Reader
Black Hippie Chick's Take on Books & The World
My Escape
Beach Bum Reads
November 27th
Proserpine Craving Books
A Bibliophile's Thoughts on Books
Provocative Pages
Ramblings of an Amateur Writer
The Bunnys Review
Musings of a bookworm
The Steamy Side