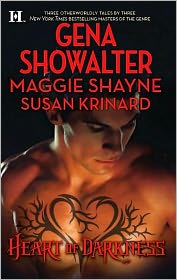 Love Me to Death is actually part of an anthology called "The Heart of Darkness." I bought the book because I'm a fan of Gena Showalter. Maggie Shayne's novella was an added bonus. 🙂 The hook from her website:
Twenty-two years ago four teenage boys were convicted of a young girl's murder. Now, in the form of a beautiful woman, the "victim" is seeking vengeance. And only one man dares to dig into the past to uncover its secrets… and set her free.
I'm going to start by saying I first thought I was unfamiliar with Maggie Shayne's writing. However, I found an old anthology An Enchanted Season featuring "Melting Frosty." If I remember it correctly, it involved a series of coincidences which bring two people together. I get the impression I liked it, but it was so long ago… 🙂
As for "Love Me to Death," the premise behind the story was interesting with a lot of potential. However, I think this novella deserved a little more. I was a bit reluctant to give this review because I found quite a few glitches in this piece which didn't sit well with me. Still, others may feel differently.
It gave me the impression of an incomplete work. The story never really addressed who the beautiful woman was in terms of her past. So I was left wondering what the connection really was.
Ms. Shayne wrote the beginning of the book non-sequential. I'm not quite sure what the purpose of it was since it didn't give me the impression of two world colliding. I would have liked it to be a little more linear, but that's likely more of a style thing.
Side characters who appeared within the story promised to show up later, but never returned. No explanation given. 🙁
The ending also seemed a little rushed. As with all romances, this had a happily ever after (HEA). However, it left me wondering how in the world did they get out of the crisis. I'm not even sure how everyone ended up in the crisis to begin with. People just appeared out of no where. Just a few too many unexplained happenings combined with too many unlikely coincidences.
In the end, I was a bit disappointed with this novella.
Available at Barnes & Nobles || Amazon
 || The Book Depository || Kobo || iTunes