As you'll see below, the blurb has promise. It offers a little bit of all the genres I love.
 And I have to say, the cover is interesting. I definitely wanted to delve into the meat of things. So… before the review, the blurb!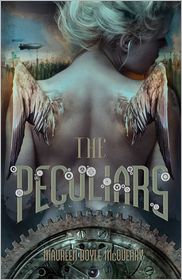 This dark and thrilling adventure, with an unforgettable heroine, will captivate fans of steampunk, fantasy, and romance. On her 18th birthday, Lena Mattacascar decides to search for her father, who disappeared into the northern wilderness of Scree when Lena was young. Scree is inhabited by Peculiars, people whose unusual characteristics make them unacceptable to modern society. Lena wonders if her father is the source of her own extraordinary characteristics and if she, too, is Peculiar. On the train she meets a young librarian, Jimson Quiggley, who is traveling to a town on the edge of Scree to work in the home and library of the inventor Mr. Beasley. The train is stopped by men being chased by the handsome young marshal Thomas Saltre. When Saltre learns who Lena's father is, he convinces her to spy on Mr. Beasley and the strange folk who disappear into his home, Zephyr House. A daring escape in an aerocopter leads Lena into the wilds of Scree to confront her deepest fears.
This book was provided by the publisher from NetGalley
Available at The Book Depository || Barnes & Nobles
This book surprised me a bit. I'd expect a lot more, but by the end of the book, not much had been resolved.
I wasn't at all fond of the heroine. She thought she was quite clever, but sadly she wasn't very bright. She was a horrible judge of character, made extremely poor decisions, and pretty much made life difficult for those around her with her actions. I honestly can't think of one thing the main character did which enhanced the book.
For the most part, she acted more like a secondary character than the star of the show. As such, it made it difficult to want to follow her journey.
The ending had a cliffhanger feel to it. As I mentioned, little had been resolved. However, there's no indication this is book one of a series.
Normally, I don't stick with a book this long (34 days, Goodreads says). However, the book was like following breadcrumbs. I kept expecting more… hoping an event would redeem the entire book. Alas, this book remain just shy of interesting–enough appeal to get me to read a few paragraphs at a time but not enough to keep me engaged for very long.
I started this book expecting to truly enjoy it. I'm just so shocked I found so little to like about it. Overall, this book left me unsatisfied.