A Writer's Website and
Why You Need an Online Store
by
Benjamin Jones
For an independent/self publishing, author having a website is akin to having a drivers license – everybody should have one. Believe it or not, there are some of us who haven't taken that necessary step and setup their own website so, if you're one of those, stop reading this post and head over to www.weebly.com, www.webs.com or any of the other sites where you can setup your own site for free. We'll give you a minute to do that before proceeding…..
Alright, now that that's taken care of (and all joking aside), one of the first things I did when I seriously started pursuing this writing career of mine was to start my website and begin building my "brand" as your website becomes the main way that people really begin to notice you and your work and becomes a "one stop shop", serving as nucleus of your writing world on the web. Something I have found useful (which I didn't think of when I first got my website) was the ability to cross promote with other authors. I have linked up with fellow authors on Twitter and have put either a banner ad or a link to their book on my page in exchange for them doing the same thing for me on their site. It's not only a good way to build publicity for your site but also a good way to link up/network with other authors.
There are many things that people put on their websites but I find these to be the core pages that every writer should have:
Contact page – it's imperative that people be able to contact you, be it via email, Twitter, Facebook, etc… It allows you a chance to interact and build a fan base, especially via social media such as Twitter and Facebook.
Reviews page – if you have gotten any reviews on your work then you need to show them off (even put a few on the front/home page of your site to entice potential readers/customers to keep reading). I don't know about you but, if I read/see that someone likes something, then I'm going to be more inclined to check it out for myself. Be sure to provide a link to the original source of the review so that people don't think you made it up. 😉  Also, you can use this page to provide little snippets/excerpts of your work to entice people to buy (or create a whole new page for this purpose). Give the reader a little bit to get them interested so they'll want to buy the rest.
A page for updates – as you continue to build your fan base you will want to let your fans/readers know what's going on with you and your work so update your site often to keep them coming back.
Besides the above things the other necessity is an online store which I feel is important enough to warrant it's own separate paragraph. When I first decided on setting up an online store for my site I thought that it was going to be hard but it is/was surprisingly easy. After setting up my site I then headed over to Paypal where I already had an account due to my eBay usage and clicked on their "Merchant Services" link and from there it was setting up descriptions and prices for my items, copying the HTML code for the checkout button onto my site and then voila – my store was up and running! As a note: I'm sure there are other sites that will let you setup an online store through them but Paypal is the one I use and the only one I'm really familiar with.
Why would I need an online store you maybe asking? The real question is why wouldn't you want an online store?  Yes you can have your books on Amazon, Smashwords, Barnes & Noble, etc… w/out having them listed on your site but let's take a look at the benefits of having your own online store:
If people are already on your site then they are more willing to buy if the link/page is right there as opposed to having to go to a different page and find it. You can always post links to the other places where your book is located on your online store page but have the focus be on your site first because….
You keep more of the money! Amazon and Barnes & Noble (and the rest) can get your book in front of more eyes but they're going to keep more of YOUR money for that service. Using Paypal I get to keep about 95% of the sale price where some places the royalty rate is anywhere from 35 to 70%.
You can sell stuff other than books. You can have posters, magnets, calendars, t-shirts or any other number of things to go along with your book and any extra income is good income.
These are just a few of the reasons why you should have an online store on your site.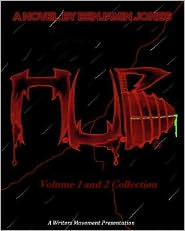 In conclusion, if you don't have a website, GET ONE! If you have a website make sure that you have an online store where you can sell your books (and merchandise). Remember that your website is an extension of you and should be looked at as a part of your "brand". Make it accessible to the readers, keep it updated regularly and let the reader know about the author as well as the books you're writing.
Good luck and happy writing!
Ben Jones.
Ben is the author of the H.U.B. series of horror books. Find more on him and his series at www.whatishub.net or send him an email at ben@whatishub.net
~~~~~~~~~~~~~~~~~~~~~~~~~~~~~~~~~~~~
Thanks, Ben. I definitely appreciate the time you've taken to share with us about the value of having an online presence.
To blog readers 🙂 If you haven't done so, take some time to tinker around on the H.U.B. site.
Now I'm hijacking this guest post. 🙂
So last week I checked the calendar and realized my one year blogoversary was on the horizon. January 6, 2010 to be exact. What to do? What to do? A giveaway is always nice. However, I wanted the giveaways to represent the directly this blog has been going lately–a slant toward indie. So, in honor of one year blogging and Indie authors, we're going with an Indie theme.
To kick it off, Ben Jones has offered 5 copies of H.U.B. Volume 1 and Volume 2.
Okay, here's how it goes. Five winners, five prizes.
One winner will receive a copy of H.U.B. Volume 1 and Volume 2 by Ben Jones plus their choice of a book up to $10 from the Book Depository. *This prize is international to anywhere the Book Depository ships.
Four winners will receive a copy of H.U.B. Volume 1 and Volume 2. *International.
So how do you win? Simple. Fill out the Form.
The rules!
Become a blog follower. See Google Friends Connect to the left.
You'll earn 1 point for completing the form and additional point if you tweet and leave the link.
You may tweet once per day after your initial entry for an extra 2 points. Use the same form. 🙂
Comments are appreciated, but only entries from the form count.
Giveaway ends Friday, January 7, 2011.
Please read the giveaway policy for the nitty gritty.
Remember to check back tomorrow for the next giveaway.
So share some of your favorite Indie Authors. 🙂
HUB is available at Barnes & Nobles || Amazon
|| The Book Depository || Kobo || iTunes