My goodness! The response to the Black Friday Book Bonanza was overwhelming! Thanks to so many generous authors, we have loads of prizes to offer. 🙂 I sure hope I don't make any huge mistakes in this presentation. So here goes. 🙂 Today kicks off the…
Black Friday Book Bonanza (Nov 25-27)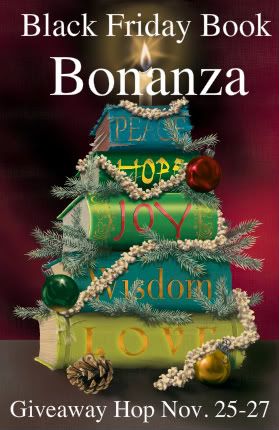 The end of the year is creeping up, and it's time to clear some space on the bookshelves. What better time to give away books than the holidays? Instead of running out to the stores on Black Friday, stay in and win new or new-to-you books. The hosts for this hop are Heather from Book Savvy Babe, Jenn from The Bawdy Book Blog, and Lisa from Alive on the Shelves.
I have to be honest. I lost track of the number of prizes. Anyone remember that scene from the Milla Jovovich movie UltraViolet when the computer voice says, "Number of weapons… many." Okay. 🙂 that's this giveaway.
A Toast to Our Sponsors!
Heidi Ruby Miller writes Science Fiction Romance because the relationship is as important as the adventure. She loves high-heeled shoes, action movies, Chanel, intense music, and video games. Heidi also teaches creative writing at Seton Hill University, where she graduated from their renowned Writing Popular Fiction Graduate Program the same month she appeared on Who Wants to Be a Millionaire. The writing guide Many Genres, One Craft, which she co-edited with Michael A. Arnzen, is based on the Seton Hill program and her novel Ambasadora was her thesis there.
She has had various fiction and non-fiction publications, as well as various jobs, including contract archaeologist, foreign currency exchanger at Walt Disney World, foreign language teacher, and educational marketing director for a Frank Lloyd Wright house. Heidi is a member of The Authors Guild, Pennwriters, Broad Universe, EPIC, SFR Brigade, and Science Fiction Poetry Association (SFPA). You can read her author interview series at http://heidirubymiller.blogspot.com. She lives near Pittsburgh with her writer husband, Jason Jack Miller.
Ms. Miller is offering two (2) eCopies of her latest release AMBASADORA. (International giveaway awarded via Smashword Coupon)
If everyone told you love wasn't real, would you still be willing to die for it?
Citizens of a six-moon system in our arm of the Milky Way don't remember Earth, only the History of a generational worldship culture. In their multi-partner society a caste system rules tradition, but the governing body of the Embassy rules everything else. Obsessed with celebrity, beauty, and power, relationships and conceptions are based more on DNA than emotional ties…or should be. What the citizenry can't escape are the human feelings of love and jealousy that turn the sterile to honorable suicide, force a couple to make the ultimate sacrifice, and allow rebels to spin their world into a violent revolution. Ambasadora Sara Mendoza becomes the unwilling face of this revolution. Captured, tortured, and given a second chance at freedom, she proves that sacrifice for the man she loves is more honorable than sacrifice to a society's antiquated mores.
Ambasadora is available at Barnes & Nobles, The Book Depository, or Smashwords.
---
Married for over 20 years, Shellie and her husband have four wonderful kiddos and two goofy greyhounds. After receiving her undergraduate degree in Secondary Education from the University of Wisconsin—Madison, she went on to acquire an early childhood education certificate. Shellie also served in youth, children's, special needs and family ministries for over twenty-two years.
Now she enjoys teaching her teens how to drive and chauffeuring her preteens across the Wisconsin countryside. And once in a while, she loves to read big people books (you know the kind without pictures). Shellie writes because it keeps her away from her husband's power tools and because every now and then, she doesn't have the choice, it just takes over. Her best inspiration comes from God and the occasional walk along a country road with her greyhounds. In addition to writing, Shellie speaks at youth groups, conferences, and women's retreats. If you would like more information regarding her speaking engagements or to invite her to speak at yours, please contact our office at info(at)shellieneumeier(dot)com.
Ms. Neumeier is offering a digital copy of her latest release, A Summer in Oakville. (International giveaway)
One Magical Summer in Oakville, Wisconsin, Love Finds its Way through Four Entwined Lives. Tessa Hasmer Murphy has a secret. Estranged from her husband, will she let a past love and a fight to save the family farm destroy her marriage and daughter Lindsay's happiness? Lindsay Murphy plans to live on her grandparents' farm until she can find a job, but developer Brandon Calloway has other plans for the property. As she wages war against him, will she lose her heart and the farm both? Widower Arthur Hasmer's life and that of his son, Andy, spiral out of control. Then old friend, Dana London, reenters the picture with the power to help them all back to love, joy and faith. Andy Hasmer has the ultimate bummer life. No mom, not much of a dad, no future. When he's sent to the farm and wrecks the truck, nothing could be worse than the lousy job he takes to pay Grampa back—except maybe putting up with the pastor's daughter, Ella.
A Summer in Oakville is available at Barnes & Nobles or The Book Depository.
---
Jason Jack Miller hails from Fayette County, PA, as in, "Circus freaks, temptation and the Fayette County Fair," made famous by The Clarks in the song, "Cigarette." He is a writer, photographer and musician who has been hassled by cops in Canada, Mexico and the Czech Republic. An outdoor travel guide he co-authored with his wife in 2006 jumpstarted his freelancing career; his work has since appeared in newspapers, magazines, literary journals, online, and as part of a travel guide app for mobile phones. He wrote the novels Hellbender and All Saints during his graduate studies at Seton Hill University, where he is now adjunct creative writing faculty. He's been a whitewater raft guide, played guitar in a garage band and served as a concierge at a five star resort hotel in Florida. Now he's an Authors Guild member. When he isn't writing he's on his mountain bike or looking for his next favorite guitar. He is currently writing and recording the soundtrack to his novel, The Devil and Preston Black. Find him at http://jasonjackmiller.blogspot.com. Tweet him @jasonjackmiller.
Mr. Miller is offering a digital copy of his debut release, The Devil and Preston Black. (International giveaway awarded via Smashword Coupon)
You'd think finding a song named after you on an old record would be kind of cool. But that's not how it goes down for Preston Black. What starts out as a search for his old man turns into a quest for an original version of "The Sad Ballad of Preston Black". Turns out the song is about his deal with the devil, a deal Preston doesn't really remember making. When the devil decides it's time to cash in things get really interesting. People he loves get hurt, and Preston starts to wonder if a long fall into an icy river is his only way out. Lucky for Preston, he has help. A music ethnographer with connections in some of Appalachia's darkest hollows convinces him that his salvation can be found in the music. Preston can buy that. It's the hexes, curses and spells he has a hard time with. And it's the ghost of John Lennon who convinces Preston to do something about it.
The Devil and Preston Black is available at Barnes & Nobles or Smashwords.
---
Elizabeth J Kolodziej, a young fiction writer originally from Torrance California, is a smart and original thinker who has researched the origins of vampires, werewolves, and witches for many years. She writes her books from the knowledge she has gained while trying to be as original and inspiring as possible. Her books encompass both true folklore facts along with innovative ideas motivated by the great writers around her. This book is her first, but not her last, in a new series entitled Vampyre Kisses.
Ms. Kolodziej is offering a digital copy of her debut novel, Vampyre Kisses. (International giveaway)
Vampyre Kisses is an enthralling story about a young woman named Faith, who seems content with her life, but deep down craves more excitement. Then a mysterious man named Trent enters her world and everything changes. Surprising to Faith, Trent is a green-eyed vampire from Ireland. She is even more amazed to find out that she is a witch, and the last of her kind. Faith learns that she is destined to restore her witch line and becomes more powerful as she gains confidence and knowledge, but danger lurks everywhere — especially when unknown assailants steal the most important gems from the vampire master and werewolf royalty. Now surrounded by a world filled with mystifying vampires and werewolves, can Faith gain enough power to help her friends and rescue the stolen gems?
Vampyre Kisses is available at Barnes & Nobles, Smashwords, or The Book Depository.
---
All it took was the encouragement of a student teacher in a ninth grade writing class and Kristy K. James was off and running. She has been writing for more years than she'll ever admit to, and loves every aspect of it. From creating characters who are so real that they sometimes take over the writing when they don't like where she's taking a story, to adding as many twists and mysteries to her plots as she can get away with. She is the author of Reluctant Guardian, A Fine Mess, and The Stranger in my Head. Kristy currently lives in Michigan with her family, too many pets and the occasional spider. She spends her time living in her make-believe worlds, cooking and baking up a storm, and doing her best to learn to say 'no' when stray animals wander into her large country yard. Reading is one of her favorite pastimes, as is traveling around the state, especially to coastal beaches to enjoy the sound of the waves crashing on the shore and gulls screeching overhead.
Ms. James is offering two (2) digital copies of her latest release, Reluctant Guardian. (International giveaway awarded via Smashwords coupon)
Except for her brother, Devon O'Leary has lost everything in the world that matters to her. When the opportunity to start over arises, they travel a great distance, hoping for a better life, only to discover that all is not what it seems. Everything Tristan Montgomery has ever wanted is finally within reach. As long as he agrees to the terms of his enemy's will. If he declines, the prize will be lost forever. Is a dream fulfilled worth the misery it will bring?
Reluctant Guardian is available at Barnes & Nobles or Smashwords.
---
Talking about myself is much harder than writing a book. You'd think a wordmistress wouldn't have such a problem, but I do. Let me rework a flat scene any day. Simple background: I'm married, have lots of pets, still work full time, and grew up in Las Vegas. But there's so much more to a person than that. Writing is more than just words on paper to me. It's a passion, an incessant need, a deep-seated drive to be a storyteller. I knew I wanted to be an author as far back as high school. Writing may have taken a backseat a few times, but I finally made it. My stories have bite because I'm a little different, and like slightly different things. No shock horror here, or cheap gimmicks meant to offend, or pandering to the latest trend. My vampires love human blood, my dragons hunt people, and my elves are magical and arrogant. Romance and darkness will always go together for me. Love really can get you through anything, as I know from personal experience. My characters will always have that glimmer of new love, that bond with a soulmate, and will do anything to be with their one and only. When I'm not busy having things killed. Being deeply romantic doesn't mean I'm not also a violent or twisted writer. Fight scenes, bloodshed, dark magic, and triumphant villains all have their places in my tales. I'll never apologize for who I am. Sometimes abrasive and uncouth, full of contradictions and juxtaposition, I am merely who I am. And what I am is a storyteller wanting to craft new entertainments for you.
Ms. Carluk is offering three (3) copies of her anthology, Stories with Fang o,.,o
Crawling from unknown depths, these collected stories await your discovery. Fantasy, and horror, and paranormal. Vampires, and elves, and monsters. Tales of darkness and lust. Unexpected turns, rousing battles, and undying love.These tales are for those wishing to sample the other side.Also included: Keila and Varick's first date.
Stories with Bite is available at Smashwords
Ms. Carluk is also offering three (3) digital copies of Deadlands. (International giveaway)
Vanya, misunderstood and alone, is one of the few necromancers in a world sundered by chaos. Superpowers have crumbled, genetic experiments have gone wild, and people have fallen back on old ways. Few can stand against the wilderness, but she teams with a mercenary group capable of doing just that. However, members of The Last Hope don't know her darkest secret: Vanya must find a vampire to open her to death or go insane. Prophetic dreams promise relief, and have lead her to the path of Alexander. He is everything Vanya needs and more, and she finally knows where he makes his lair; the ruins of Louisville. She just needs to cross the Deadlands to get there; hostile territory east of St Louis overrun by feral animals, genetic monstrosities, and the dreaded neospawn ghouls. Certainly not the kind of place an addicted necro wants to be alone while suffering withdrawals. Meaning she must enlist the aid of the mercenaries who are as wary of her death powers as everyone else. Can determination and The Last Hope see Vanya to her dream vampire's arms?
Deadlands is available at Barnes & Nobles or Smashwords
---
Reena Jacobs
Hi! I'm me and the web manager of Ramblings of an Amateur Writer. I enjoy NOT playing with animals and children. My favorite pastimes are reading and web surfing. As usually, I can't leave well enough alone, so I'm throwing a few goodies in also.
I'm offering an undisclosed number (??) of digital copies of my work. Winners' choice. (International giveaway award via Kindle gift with some restrictions)
Close your eyes kiddies, some of these works are not for you. If you're 18+ and can handle a little eroticism, you're welcome to enter to win any of my works. If you're of the younger persuasion (under 18), you may enter to win I Loved You FirstONLY. I'm sure folks are tired of me talking about my books. Rather than going into a long dragged out commentary about what each work is about, I'll just do a quick listing and genre. Feel free to click the link for more details.

I'm offering a book worth up to $10 from The Book Depository (International) or a $10 Amazon Gift Card (US-only).
Winner's choice if you're in the US, and by default your choice of books if you're not. My understanding is us lowly folks in the US can only send Amazon Gift Cards to folks in the US. If I'm wrong, definitely leave a comment. It won't change the prizes for this giveaway, but keep in mind, another blog hop occurs at the end of the month with a similar prize offer. I'd love to offer the gift card internationally.
By the way, if you haven't put in your book request for the Romancing Christmas Giveaway Hop, head over and do that. Only sponsored books and books requested by the readers will be up for grabs in that giveaway.
---
As always, entering is easy. 🙂
Many Thanks to Our Generous Sponsors!!!
Are you following the Black Friday Book Bonanza? See what the next three participants on the list have to offer!
For a full list, visit here.
Interested in joining the fun? Become a sponsor for a giveaway or upcoming Blog Hop. Email me at reenajacobs@reenajacobs.com.