Welcome. Today we have the author of Salt City, Robert C. Fleet, here to share a bit about himself and his works. I don't know about you, but I love delving into the mind of an author. 🙂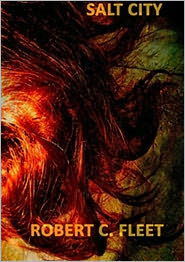 Syracuse, upstate New York. The "Salt City." An apartment building on the edge of The Projects – and Anne Malloy dies, thrown out of a sixth floor window, an apparent suicide, while Mark Cornell watches. Mark was there for a purpose, his part-time gig being to snap incriminating photos for a divorce lawyer who happily takes cases over the phone. Watching the apartment was Mark's assignment.
But this assignment has a problem: Mark learns that "Anne Malloy" had died months before, leaving behind a grieving husband. So who is this woman?
It's 1976, before cellphones, internet, and all the easy ways of satisfying curiosities, so Mark Cornell's search for a name to give the victim makes him a foot soldier slogging personally through the facts. And, as those facts pile up, Mark discovers that he really shouldn't be playing detective, stumbling across the thin line between commerce and crime.
Available at Barnes & Nobles || The Book Depository || Amazon
Reena Jacobs: The cover art is rather unusual. I've stared at it so long, the image is imprinted in my eyes. What is the concept behind it, and how much direction did you have in its development?
Robert C. Fleet: The concept behind Salt City's cover art is a vision of the first victim, red-headed Anne Malloy, as she lies on the sidewalk after her six-story fall. It's the image that sticks in the detective's mind from page two and drives him to the very end of the story.
The publisher spent a lot of time designing the cover art, ranging from very literal to very abstract, before arriving at this photograph transformed into something suggestive.
I wish I could take some credit for it, but my graphic arts abilities are very poor. I did have right of final approval, though, and saw the options as it was being developed.
RJ: I love it. As I said, I spent quite a bit of time just looking at it. What's your favorite part about the publishing process and why? (consider the initial book concept all the way through marketing, and beyond)
RCF: I don't have a favorite part of the publishing process – beyond writing the book, of course. I get very shy about my work once it's completed, so it's hard for me to push it in terms of marketing. I have gotten better over the years, however, and I've always enjoyed engaging readers in conversation.
The writing part of the process is both my favorite and least favorite part of it all. The initial concept is always like an itch or a snatch of song that you can't get out of your head. Once it's rubbed my imagination raw and I have no choice but to write it, then the fun starts, because I get to become part of a dozen or so lives — and I never really know how a book will end until I am in the final stretch.
FYI: Salt City is my fourth published book: I have three more completed and five that I have never been able to get past page 80. I've been lucky enough to have six feature screenplays produced, though, and two full-length plays – but you don't want to see my shelf of unrealized dreams, written but not realized on screen or stage.
RJ: Wow! You've been busy. With hindsight being 20/20, is there anything you would have changed with your publishing journey?
RCF: I would have pushed hard to get Salt City published first, instead of my two fantasy/magic realism novels, Last Mountain and White Horse, Dark Dragon.
As you know from the book's prologue, the original manuscript had some bad luck with East European censors during the bad ol' Cold War days – I was living there when I wrote Salt City, trying to get married to the love of my life, who is Polish. (We did/still are.) So I started writing the other books in totally different genres just to get the bad taste out of my mouth. It was only when I finally recovered the manuscript and re-read it years later that I realized that I liked Salt City a lot and should have kept fighting for it from the beginning.
RJ: It's amazon the way life's events shape us and push us in certain directions. It's wonderful Salt City wasn't lost for ever. I spent some time on your website, and I am absolutely OVERWHELMED with your experience. Writer, Director, Producer, Artist… Share with us the pivotal moment when you realized performing arts was the road for you?
RCF: First moment: When I drilled a football at an assistant coach's head when he made fun of me for liking anything other than killing my own teammates to get a spot on that weekend's varsity line-up. Ostracized by the sports crowd, I discovered theater and a great girlfriend within two weeks and never looked back.
But . . . It's one thing to enjoy high school arts – theater & writing (I'd been writing since I was 8) – it's another thing to plan a life, what with parents' expectations, a "real world" out there, and the luck of having other skills. So, once the college days started, I dropped out of theater classes in week 1 and concentrated on the academics.
Or thought I would. Instead I started doing plays without college credits, working with grad students a lot, lucky enough to work with several more experienced writers in developing their visions and soon enough starting to write my own. But still I was taking a full load of academics and nothing officially in the arts, performing or otherwise. So, the pivotal moment became…
My 20th birthday. A sleet-driven December day in upstate New York – on a street corner near the Syracuse University campus – that's when and where I made my decision to commit to the creative arts, performing arts being the main one at the time.
I had always been a good student, and I was at S.U. on a fairly substantial academic scholarship. That was easy and safe. Acting and writing (playwriting at that time) were hard, unsafe. Difficult. I was always afraid of failing. And, wow!, did I flop a couple of times. Still do. But I was becoming more and more addicted, spending more and more time on theater courses and rehearsals.
That cold grey wet day, feeling incredibly lonely 'cause I was away from my family for my birthday, feeling like becoming 20 should mean something, I suddenly realized that I wanted to take the chances, that I was honestly happy when trying to do something creative.
It's still scary, though.
RJ: Safe is easy. It takes a lot of courage to put oneself on the line. Congratulations on taking a chance on yourself and dedicating yourself to a work you're passionate about. What are you working on now?
RCF: I'm helping promo an indie feature, PLAYER. I wrote the screenplay and ended up acting a main role (it was written for someone else who was suddenly unavailable). In May it is at the Cannes Film Festival, hopefully being sold to U.S. & international markets. I've been working with the marketing and PR people, but it's an indie, so the budget is lunch money compared to the mega-movies out there.
On the book side, I'm updating Last Mountain and White Horse, Dark Dragon for a new edition and ebook publication. Both are fine as is, but the original publisher (Ace Books for Putnam/ Berkley) changed length requirements after they were delivered and I had to cut out 10,000 words at the last moment. I lost some interesting story moments. Now, with a new publisher, Red Frog Publishing, and a digital version, I have to go through the manuscript anyway, so why not?
It's a very interesting, somewhat odd experience going back to something written 20 years ago. Don't think I could write those same books today. The challenge is to update them without betraying their original qualities.
RJ: Sounds like a full plate. Do you have any advice for other writers?
RCF: Write what you want to write first. Don't try to put everything you ever wanted to say into the same story. Don't try to guess what others say will sell.
Then, once you've written what you want to write, look at what people are reading and see how you can give them something to read. Believe it or not, you can write from the heart and for a wider public, too.
RJ: Anything special you'd like to say to readers?
RCF: Enjoy. Salt City was meant to entertain lovers of mysteries and style. Yes, there are levels of meaning in it, but the first job for this book was to create an enjoyable read with perhaps a little resonance to the story.
Oh, and the chapters are short in honor of my Dad: he always read in bed and would complain about falling asleep before he could ever finish a chapter. He's dead now, but he would have felt like he was flying through Salt City.
About the Author
Robert Fleet took a youth in Texas, Missouri & New York, universi­ty education in Syracuse, Amsterdam & London, and then spent the first years of his career as actor-writer with the Chinese "Zignal Theater Ensemble" at La Mama E.T.C. A summer in Poland at Jerzy Grotowski's Teatr Laboratorium lengthened into extended stay — and writing a Polish-serialized crime novel, Salt City, in order to obtain a visa to remain in the then-Communist country to marry the woman he saw on his first day there: his artistic collaborator-wife ever since, Alina Szpak.
In America, Robert's NYC theater activities included directing children's theater, Yiddish historical dramas, Irish repertory, full-fledged spectacles, and his own works. Website  http://www.redfrogpublishing.com
Giveaway Time
Robert C. Fleet is offering the winner a choice of a print or digital copy of Salt City. To enter, please leave a comment along with your email.
Follow the Tour!