My introductory into the paranormal romance genre began with Sherilyn Kenyon. I had no idea there was a genre out there which mixed two genres (romance & paranormal) I'd spent so much time reading while I was younger. And to think… a whole world full of characters to explore. 🙂 Well today we have Staci Weber and Sara Dailey with us to share how they're applying a similar concept with a YA theme.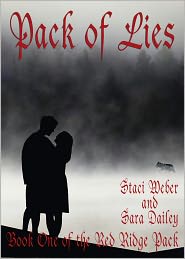 The last thing Allison Wright ever expected when she moved to Red Ridge, New Mexico was to come muzzle to muzzle with the wolf of her dreams.
Seventeen-year-old Allison Wright is convinced she's losing her mind. Uncontrollable mood swings, hot flashes, and the urge to punch anyone who gets in her way are suddenly becoming everyday occurrences. Before her erratic behavior gets out of hand, Allison's mother finally comes clean about her dark secret. Mom is a werewolf, and soon Allison and her brother Aiden will suffer the same fate. When Allison reaches her breaking point, the family leaves their life in Texas to move to Red Ridge, New Mexico where they rejoin the pack that Allison's mother left behind almost 20 years ago. 
Unfortunately, not everyone in Red Ridge is thrilled about Allison's arrival, especially when she attracts the attention of the very handsome, very taken, soon-to-be alpha, Cade Walker. Little does Allison know, her mere presence is causing a rift in a once unified pack. Not only has Cade been forbidden from being with Allison by his father, the pack's alpha, Cade's girlfriend, Kendall Stuart, will stop at nothing to get Allison out of the picture. Well on her way to becoming the next alpha's mate, Kendall expects to rule the pack by Cade's side even if it means teaming up with a rogue werewolf with an agenda of his own. Determined to get rid of Allison permanently, when Kendall and the rogue join forces, all hell breaks loose and no one in the pack is safe, especially not Cade and his true mate. 
Available at Smashwords || Barnes & Nobles || Amazon
We would like to thank you for having us on the blog today.
We thought that we would share how the idea of our Red Ridge Pack series came to be. Over the years, we both were devouring young adult series books like crazy, but by the third or fourth book in the series, they all seemed to fall a little flat. We decided that we just got tired of reading about the same characters over and over. After writing our first novel, Sinful, we couldn't even imagine writing another whole book about Michael and Elizabeth. We just wanted them have their happy ever after and move on to the next book idea. Why write about the same characters making the same mistakes over and over again? It became frustrating for us as readers, so we knew that we didn't want to write a series like that.
We decided at that point that if we were going to write a series, we wanted each book to tell someone else's story. We didn't want our readers getting tired of our characters, and we didn't want to get tired of them either. So, when the idea to write a werewolf series popped in our heads, we knew immediately that it would have to be centered around a Pack, and not just one couple in the Pack. We started out with a cookie-cutter family, mom, dad, two teenagers, but little did Allison and Aiden know, mom had one hell of a secret. And Pack of Lies was born. From there we knew we could build an entire series. What better way to be able to write about several different characters than have them be part of a Pack. Being that werewolf Packs are a tight-knit group and full of drama, we knew that the storylines could be endless. Our goal was to create a series much like many of the adult romance series that we have read, like Sherrilyn Kenyon and Christine Warren. While each of their books was about someone new, each novel in the series were connected in some way.
When we started Pack of Lies we didn't have any idea who the next book in the series would be about, but the further we got into the story, it became clear. Aiden stood out to us from the start. We thought he was funny (we hope our readers do too), and since we decided that his werewolf abilities would progress much more slowly that his sister, Allison's, we knew that book two had to be about him. We are currently hard at work on Aiden's story and can't wait for its release.
About the Authors
Both Sara Dailey and Staci Weber are avid readers, English teachers, friends, wives, and soccer moms. They have been teaching together for the past eight years, and writing together for four. Pack of Lies is the second young adult novel for this duo. 
Follow the Tour!
6/18 The Book Hoard /Guest Blog
6/19 The Release Day ALL REVIEW Blitz
Reader Girls
For The Love of Film And Novels
Wonderland Reviews
Bunnys Review
Cuzinlogic
Doctor's Notes
Books, Books, and More Books
  T B R No

Reading, Writing and More
Words I Write Crazy
6/25 Persephone's Winged Reviews /Guest Blog
6/25 T B R /First Chapter and Give Away
6/26 Reading, Writing and More /Interview, First Chapter, Give Away
6/28 This Author's Life /Guest Blog
6/29Ramblings of an Amateur Writer /Guest Blog
7/3 The Story of A Girl… /Review and Give Away
7/4 Close Encounters with the Night Kind /Review, Give Away
7/4 My World /Guest Blog
7/4 A Case of Reading Insomnia /Review
7/5 Book Lovin' Mamas /Guest Post
7/6 Soliloquy /Interview and Give Away
7/10Red Headed Bookworm /First Chapter and Give Away

7/11Lissette E. Manning /Review
7/11 Readers Confession /Review and Give Away
7/12 Books, Books, and More Books /Bio/Book Synopsis, Give Away