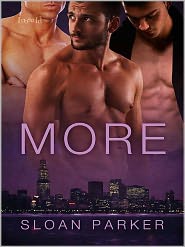 Okay. I'm late. This post was due Monday. I have no valid excuse for my tardiness other than I've just been lazy and haven't wanted to surf through my notes. Just so I'm not late with next week's review, I'm doing it right after this.
Anyway, I believe "More" by Sloan Parker is the third M/M novel I've read. If you've read some of my earlier posts, you might know I've been exploring M/M novels. And the blurb from Ms. Parker's website:
For fifteen years Luke Moore has lived by three rules: stay off his father's radar, never spend more than a single night with any man, and never fall in love again. But one night of explosive sex and two men whom he can't get out of his head have Luke breaking them all. Richard and Matthew push him past all his boundaries—both sexually and personally—and now he's no longer hiding from his senator father; he's taking him on. And he isn't just falling for one man; he's falling for two. If you're going to break the rules, might as well break them big.
But Luke's father has his reasons for hating how his son lives, and he'll do whatever he can and use all his power to keep Luke away from Richard and Matthew.
Can this threesome find a way to make their unconventional relationship last with the world around them trying to pull them apart? And will Luke be able to keep breaking his rules for Richard and Matthew, or will he head back to his familiar way of life just when his new lovers want to bind him tighter?
A twitter fellow recommended this book when I mentioned my search for hot M/M action. Ms. Sloan had a free read on her site called "More Than Just a Good Book" which I highly enjoyed. I read the excerpt of "More" directly after and loved it. Well, I put off purchasing the book, which only available in e-Book formats. If you read my post on Pandigital Novels (review here), you know I recently acquired an e-Reader. This seemed like the perfect book for it. And off I went to make the purchase.
Blah, blah, blah, so what did I think? Anyone in a relationship knows there's plenty of drama to go around. Now add one more and you've hit insanity. That's "More." Typically, three's a crowd, but somehow the three men made it work even with all the crazy drama. Well, let's break it down into a few areas.
Storyline- "More" started out strong, which is why I purchased the book in the first place. However, it grew quite monotonous in my opinion. The novel was full of sex scenes, which I guess is expected in an erotic novel. But it reached the point I found myself just skipping over it in huge batches. The first couple of times were exciting, but after awhile, they all seemed to sound the same. Most of the sex didn't drive the story forward, and I thought little would be missed as far as the storyline went if a handful or two were omitted.
Eroticism – As far as eroticism, there were plent of sex scenes. However, I didn't find them overly erotic. They seemed rather cut and dry. The mechanics were there, but the sensations were glossed over. What did it feel like to be aroused? at the moment of penetration? climax? I wanted to know what the characters felt, not just what they were doing physically.
The abundance of sex did bring a psychological question to mind. Society puts a lot of pressure on women. It's almost a catch-22. "Keep your legs closed." However, if one says no too often, labels like "frigid" and "prude" come along. So a lot of women end up playing hard to get, just not too hard. Then there's the idea women have a decreased libido compared to men. I'm not so sure about the truth of that. After all, society seems to question the morals of a woman who openly admits she wants sex often. Not being a man and all, I wonder how this affects them. Are men less assertive because they think women are less interested? fear rejection since women are supposed to play hard to get? But the big question is, would male-female relationships have as much sex in it as Luke's if not for all the games?
Realism – I think Ms. Parker did an excellent job of putting issues gay couples have in the forefront. It was easy to empathize with her characters. Life isn't perfect. There is discrimination in the LGBT community. And often it's difficult to fight back or take a stance. Sometimes, it's just enough to hold on and hope for a reprieve.
Romance – One thing for sure, I don't know how they made the threesome work. I'd eventually get jealous not being the center of attention or end up with doubts on whom they liked best. All I can say is, hank god I don'd live in a society which keeps harems.
The romance didn't do it for me. I don't know if it was the writing or just my preferences. One thing I did learn about myself, which I'd forgotten, was I'm not into contemporary romances. I don't read them–haven't for a long time. I lost interest in them before I graduated high school.  This gay romances read like contemporary but with a M/M twist.  It wasn't necessarily the writing, but rather the genre (erotic gay romance).
One thing I did love was the ending. It brought the novel to a complete circle.
So now I wonder. Does anyone have a suggestion for Urban Fantasy or Paranormal Gay Romance? I haven't given up on M/M, but I think I need the right genre to really get into it.
Available at Barnes & Nobles || Amazon
|| The Book Depository