Welcome to the next stop on the Serpent Passage Blog Tour. Today, Todd Allen Pitts, author of Serpent Passage, is here to share a bit about himself and his book. Please welcome him!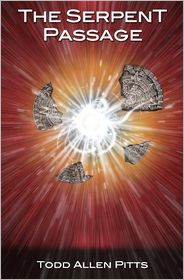 Reena Jacobs: Congratulations on your debut release, The Serpents Passage. I visited your website and see it's the start of a series. Please share with us a little about it.
Todd Allen Pitts: The Serpent Passage is about a teenager, William, who (on the day of the Summer Solstice) feels compelled to rescue a woman with his scuba gear from drowning in a cenote (lake) in the Yucatan. He subsequently gets pulled into an underground cavern where he finds her. They make their way out through a strange underwater passage of flashing lights that propels them back into the times of the ancient Maya. Of course they don't realize they're back in time at first, but when they come across a pyramids in pristine condition and get in the way of a planned sacrifice, they begin to realize what happened and they become intertwined in the conflicts between Mayan kingdoms. William is awarded a magical gem, called the bloodstone, that puts him in the path of Mayan gods and demons. William hopes to find a way back home, but he falls in love with a Mayan princess, and begins to realize he may have a more important reason for being there. A Serpent Priest says that he knew of his coming and had been waiting for his arrival. That is the basic setting that takes you on a wild ride in the times of the ancient Maya.
RJ: There's been a lot of talk about the Mayan calendar and the year 2012. How does the Serpents Passage series relate to it?
TAP: Many believe that either a cataclysmic or consciousness-changing event will occur at the time when the Mayan Calendar ends in 2012. Without giving too much of the overall series plot away… The main character, William, is pulled back in time to around 1000 A.D., around the Post Classic time period when the Mayan kingdoms of the southern regions were abandoned and were migrating north to Chichen Itza. William discovers that he has a task to complete in the past, ultimately related to saving the bloodstone (a gem that has a connection to the Mayan gods), and the construction of the Castle of Kukulcan (that serves a cosmic purpose to save the legacy of the Maya, while also assisting mankind in this transformative period at the end of the Great Cycle in 2012).
RJ: I imagine writing about a period a thousand years ago took a lot of research. Will you tell us a little about what your research entailed?
TAP: I started scuba diving when I was 12, and it has always been a passion of mine. On a diving trip to Cancun in 1998, I decided to take a sabbatical from my career in technical writing to get my PADI Scuba Instructor license, which takes about three to six months on a fast program. I ended up staying there for two years to work as a dive instructor and dive master. While living there, I became fascinated with Mayan culture and began exploring ruins. Besides for the popular ruins of places like Chichen Itza and Tulum, I was intrigued by the more remote ruins, like Dzibanche and Kohunlich, and I began wondering what it must be like to live in those times. I read many books to learn as much as I could about their culture and beliefs, their gods and demons, and about the Mayan Calendar.
One day, while having lunch at a famous cenote in Bacalar, called the Cenote Azul, I had an inspiration for the start of my novel, and I began writing it later that night. I wrote the first draft in about 6 months. It went through years of rewrites and changes after comments from literary agent input. Along the way, the explosion of data on the internet aided my continued research.
I have to remind people that although I know a lot about the culture, beliefs, and history of many of the Mayan kingdoms, the purpose for that knowledge was to weave colorful detail into my fictional story, so the readers could learn about an amazing culture while being entertained with adventure, romance, and mysticism through interesting characters and situations.
RJ: I love the idea of taking history and making it one's own. You have a background in technical writing. What led you to step into the world of fiction writing?
TAP: I always enjoyed fictional writing since I was a child, and writing a novel had been a lifelong dream of mine. Out of college I got into technical writing because it was a way to immediately make good money doing something I enjoy (writing). I think my creative side helped me to also be a better technical writer, because I would think outside the box. But after many years, I felt a 'calling' to go after my deeper dreams and pursue the type of writing that I knew would give me the most satisfaction in my life. I love becoming immersed in my writing projects, as I 'see' events unfold like a movie in my head, and don't always know what will happen next until I get there. I love that part of the creative process.
RJ: How has your technical writing experience helped you on the fictional side?
TAP: Being a technical writer helped me to be a better fiction writer because I became more critical of my own writing, and more conscious of my word choice and sentence structure. Perhaps more importantly, I had learned to accept and incorporate feedback (critique) along the way.
RJ: It makes sense that developing the skills to be clear and concise in technical writing would be a huge benefit in fiction writing. 🙂 I'm not sure why that's never occurred to me before, but I love the parallel. Which author has inspired you the most?
TAP: There are so many wonderful writers out there, that it's hard to say. However, when I was young, I read The Sword of Shannara by Terry Brooks, and I was so enchanted by the way the author created a whole new world inside my head. It was at that moment that I knew I wanted to be a fiction writer. Since then, I have read many other books, of course, and have been amazed by the work of authors throughout time, but I'd have to say that Terry Brooks was my earliest and most inspirational influence to become a writer (just by chance, I suppose) and I also enjoyed the way he wrote in such descriptive and colorful manner.
RJ: Do you have any advice for other writers?
TAP: To write about what interests you, because then your passion in your interests will show through in your writing and make it believable and engaging to your readers. For example, I utilized both scuba diving and my interest in the ancient Maya in The Serpent Passage.
RJ: Anything special you'd like to say to readers?
TAP: Just that there are many types of writers out there, and it's important to find your own voice. My preference is to write in a somewhat casual tone that people of all ages can enjoy and talk about together. I suppose that would classify me as a YA writer today. I also like to write in a very descriptive manner, so that you can picture in your mind what's happening, and carry those images with you after setting the book down, as though you've just watched an adventurous movie, and dream about it later that night.
RJ: I understand exactly what you mean. I love the imagery written words put into my head. What are you working on now?
TAP: Of course, I'm working on the sequel to The Serpent Passage, called The Bloodstone. It's finished, and going through final editing passes, cover design, etc. After I get The Bloodstone out there, I'll take a diversion and go back to the first book to turn it into a screenplay, and begin to market The Serpent Passage Series as either a movie trilogy or a TV series. Then, of course, on to the final book of The Serpent Passage Series, called The Castle of Kulkulcan. I do have other ideas for new projects, but those will have to wait until I finish this series.
Thanks for the questions…
Todd
About the Author
Todd grew up in the Northwest, where he used to write stories to entertain his family. He has a B.A. in Communications and worked in technical publications for most of his career. Over the years, Todd wrote numerous technical manuals that have been published in print and on the internet. His success as a technical writer led him to managing large technical publication departments. Throughout his professional career, Todd continued to write fiction. Todd was inspired to write The Serpent Passage while exploring Mayan ruins and working as a scuba instructor in the Yucatán.
Find Todd Allen Pitts online at:
Website: http://www.toddallenpitts.com/
Facebook Link: http://www.facebook.com/serpentpassage
Twitter: https://twitter.com/#!/toddallenpitts
YouTube: http://www.youtube.com/watch?v=-bXRApoI9As&feature=player_embedded
Serpent Passage is available at Barnes & Nobles  || The Book Depository || Amazon
Follow the Tour!