Okay. It's been forever since I read this book. I meant to review it way back in March. Unfortunately, that was around the time I had Kindle trouble. I really should do a review on my loves and hates about the Kindle.
 But I digress. We're here for Lorenzo il Magnifico by Tristram La Roche: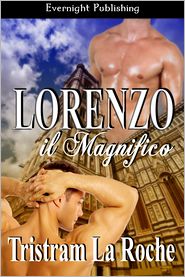 When Luke visits Florence he hopes it will be the start of a new chapter in his life. A chance meeting with a tall, handsome waiter and that chapter starts far sooner than he could ever have imagined. 
Lorenzo is everything Luke has been looking for. Hot, sexy and uninhibited, he pushes buttons 
Luke never knew existed. But Luke lives in England, Lorenzo in Florence, and the time soon comes for them to part… Can this holiday fling become more than just sex? Can it, in fact, turn into a magnificent romance?
Available at Barnes & Nobles || Smashwords || Amazon
For the longest time… okay, for the last couple of years, I've wanted to read a romance written by a male. Lorenzo il Magnifico gave me that opportunity. It's one of those books which hit me on a psychological level.
It was interesting to find the main character in the book had a lot of the same insecurities I have going into new relationships. Luke offered a sort of rawness he shared with the reader, and it made him a character I could relate to… understand and appreciate.
One of the things I loved about Lorenzo il Magnifico is the vulnerability a lot of women miss when writing from the male perspective shows up in this book. Society says men are supposed to be butch and stoic. 🙂 I've been married (add some dating years in) long enough to know the stoic shell hides a lot. It was nice getting into Luke's mind and see he was just… well, human, rather than the unemotional brute I see so often in romances.
So we had a bit of gay love happening. 🙂 What did you expect from a gay romance? It actually reminded me a lot of Queer as Folk. When Luke wanted sex, he simply went to the place were the guys were and got it on. He didn't have to play games or pretend he was not into.
And it made me wonder, what would life be like if women didn't have to play the chaste games… if women weren't called sluts for seeking sex when they wanted. After all most people enjoy sex (men and women alike). Yet women have to put up the appearances that they're not that interested in order for society to view their behaviors as acceptable. I have to say… for straight guys so eager to get it on, they're really screwing themselves over with the name calling. 🙂
Despite the stigma still surrounding being gay, it seems very liberating to do away with the sex games heterosexual couples play and just do. I liked that about Lorenzo il Magnifico.
So I must apologize to my blog readers for not being able to go into more details about Lorenzo il Magnifico, since my notes are rather spotty after the Kindle incident. I will say, I enjoyed this book very much. 4/5 star read.