Who Art Thou Thursdays is another feature I'm starting. I've met so many wonderful people over the last year or so, one day really isn't enough to introduce them all. Alas, there's only so much time in the year. I'll be chipping away at those introductions each Thursday starting with Valerie Maarten author of Second Chances.
Give us a brief description of a story you have hidden in your skeleton closet? And will it ever see the light of day?
I've outlined a Time-Travel Romance that I've always had in the back of my mind.  But the current WIP are taking priority, but I believe it will see the light of day because it's a great story with a nice premise I'd like to explore more through the written word.  For sure, this story will be a challenge.
How much of you/your life do you put into your stories?
I can't say I put any of my personal experiences into my stories, though I do inject a lot of my personal emotions about a particular scenario or point of view.
With hindsight being 20/20, is there anything you would have changed with your publishing journey?
I would have been less impulsive and more introspective in terms that I would have planned for the promotion/marketing before I published.  After I published is when I began to learn the most difficult part of publication…building a readership.
What are you working on now?
I'm currently working on "Forget Me Not" another real-life drama with a much deserved "Happily Ever After"
When did you first decide you wanted to be a writer?
I've never decided I wanted to become a writer.  I just WAS.  I've been writing for more years I can count and have recently decided to become published.  If that makes sense to you.  There's really no other way I can explain it.
Who is your favorite author and why?
Maya Angelou.  I've grown up reading her books and she's inspired me and evoked emotions from me like no other.
Why did you decide to publish independently?
Because I don't like stringent deadlines or "cookie cutter" formula.  I like the freedom of deciding plot/story-line content, cover art, word count, etc.  I'm more of a dictator-type and don't really like being told how to do something differently than the way I have decided in my head.
Where do you get inspirations for your stories?
Life.  I'm constantly wonder, "What would happen if…" so once a story or scenario gets stuck in my head, I explore all of the scenarios then allow my imagination full reign.
What is your character development process?
My process is simple.  Most of my characters are people that have, in one way or another, been a constant part of my life just waiting for me to tell their story.  Because I write about real-life issues, all development requires from me is to be observant of people around me.
What's your favorite writing tool and why?
My favorite writing tools are pen and paper because my mind flows easier while writing.
How about some quickies!
Pencil or Pen: Pen
Print or Cursive: Cursive
Pantser or Plotter: Plotter
Favorite Candy: Chocolate covered raisins
Worst habit: Procrastination
***************************
About the Valerie Maarten
Valerie Maarten has been writing ever since she discovered that letters made sounds and a combination of letters made words. It wasn't until recently that she decided to share her work.
She can generally be found with pen and paper in hand, scribbling the next storyline or reading one of her many "favorite" authors. Although she has an eclectic taste in what she reads, there isn't a romance sub-genre that she will pass up.
She currently lives in Orlando, FL with her three sons, plotting to write the next story in her head that needs to be told.
Until then…
Connect with Valerie Maarten:
Website
Blogspot
Facebook
Twitter
Second Chances by Valerie Maarten is available at the following online stores: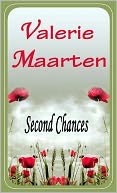 Amazon US
Amazon UK
Barnes & Nobles
Diesel E-book Store
Smashwords
Sony E-book Store