If you've been following the Talisman of El blog tour, welcome and I hope you've been enjoying yourself. 🙂 If the Talisman of El is new to you, also welcome, I'm happy to introduce you to a new author–Alecia Stone! Today she's here to do an interview with us, so here's your chance to learn a bit about her and her works.
Reena Jacobs: I read the blurb. I cruised your blog. I watched the trailer. Wow! There's so much happening in Talisman of El, I want to start everywhere. 🙂 Please tell the readers a little about your book first, cause I'm anxious to ask some questions.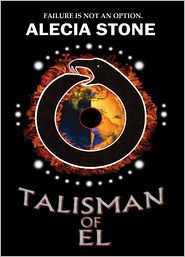 Alecia Stone: First, I'd like to thank Reena for having me today. My debut novel, Talisman Of El, is a story about 14-year-old Charlie Blake who discovers a shocking truth about himself and the world he lives in, which turns his life upside down – literally. Charlie has never quite been able to fit in anywhere, but when he moves to a new town, he encounters a world he knew nothing about but is so much a part of. Talisman Of El is a story about acceptance, identity, and the battle of good vs. evil.
RJ: Without giving too much away, will you give us some insight into the idea of one planet, two worlds?
AS: Well, I've always been fascinated with the supernatural world, so anything strange that occurred which couldn't be explained, I'd put it down to the world of the unseen. From the moment I realised Charlie wasn't your average kid, I knew there would have to be an explanation for what was happening to him and why – an explanation that was beyond the ordinary. For some unknown reason, I started thinking about people who had vanished without a trace, like Amelia Earhart, for instance. Then I came across this article about a farmer who vanished into thin air in front of his two kids. So, I thought to myself, they had to have disappeared to somewhere. And there you have it. One planet, two worlds.
RJ: Oh! I like that. Your bio talks about your experience in film and television. Did you have any involvement in putting together the trailer?

AS: Yes, I had about fifty percent involvement in putting the trailer together. I have a degree in Film and Television, so the skills I acquired on my course came in very handy.
RJ: Pretty cool to be able to put your skills to work in a different field. Totally random question. Your website mentioned you're reading the Hunger Games Trilogy by Suzanne Collins next. I also noticed you have the Time Traveller's Wife by Audrey Niffenegger as recommended reading. Does watching the movie get you interested in reading a book or is it the other way around? And why?

AS: I finished The Hunger Games series, by the way. I'm a huge film fanatic (having a degree on the subject should be a clear indication) but I must say that watching a movie adaptation does not get me interested in reading a book. I tend not to read a book if I've watched the movie as I already know what to expect so it kills the suspense.
RJ: I totally know what you mean. I'm the same way. 🙂 I purchased the Time Traveler's Wife after watching the movie, yet I haven't even cracked it. haha So, what are you working on now?

AS: Right now, I'm working on the sequel to Talisman Of El.
RJ: Definitely something to look forward to. Do you have any advice for other writers?

AS: For any writer coming into this industry, I would say you need to develop a thick skin. Believe in yourself and in your work. Right now, you are your biggest fan, so love what you're doing. Also, just have fun.
RJ: Anything special you'd like to say to readers?

AS: Yes. Thanks to everyone who has shown interest in my debut novel. Thanks for your support and for reviewing my book. And thanks to everyone who pre-ordered a copy of my book. I hope you all enjoy the journey as much as I have.
RJ: Thanks a bundle for stopping by and sharing with us, Alecia. We wish you the best!

About Alecia Stone
Alecia Stone has been in love with anything and everything paranormal for many years. She grad­u­ated with a BA in Film & TV and has worked in tele­vi­sion for a short period of time before branch­ing out into storytelling. When she isn't writ­ing, she enjoys going to the movies, lis­ten­ing to music, and travelling. Talisman Of El is her first novel. She currently lives in England, UK.
Find Alecia Stone online!
Website || Official Book Website || Facebook || Twitter || Amazon || Barnes & Noble
WHAT IF YOUR WHOLE LIFE WAS A LIE?
One Planet.
Two Worlds.
Population: Human … 7 billion.
Others … unknown.
When 14-year-old Char­lie Blake wakes up sweat­ing and gasp­ing for air in the mid­dle of the night, he knows it is hap­pen­ing again. This time he wit­nesses a bru­tal mur­der. He's afraid to tell any­one. No one would believe him … because it was a dream. Just like the one he had four years ago – the day before his dad died.
Char­lie doesn't know why this is hap­pen­ing. He would give any­thing to have an ordi­nary life. The prob­lem: he doesn't belong in the world he knows as home.
He belongs with the others.
Available at Barnes & Nobles || The Book Depository
*A comment here also enters you into the Mid-Month Commentator giveaway!