My overseas writing buddy, J.A. Belfield, had her debut release last month. Exciting, exciting! Today she's being generous with her work and sharing a couple of excerpts from Darkness & Light.
Jem Stonehouse, a housewife with a neurotic husband bent on keeping her in line, dreams about werewolves in, what she believes, is a bid to escape boredom.
Sean Holloway is a werewolf, living a charade within the human race, whose mind drifts to a bond he shares with a woman he hasn't met–at least, not in this lifetime.
Apart, the two are safe but live unfulfilled lives.
Together, they'll become prey to rival packs just as they have been for hundreds of years.
When their worlds collide, and not for the first time, instinct takes over. Dreams become reality. Futures are uncertain. To keep history from repeating itself, Sean must teach Jem about his heritage, convince her of her role, and win her love.
Can Jem accept her destiny before it's too late, or is her inner wolf buried too deep to save her future with Sean?
FROM CHAPTER ONE
 LIGHT
 Sean!
I jerked awake. The echo of the name in my head merged with the trilling of the alarm clock. With an inward groan, I slapped my hand on the snooze. Movement behind told me I'd disturbed Peter. A second later, his arm reached out to draw me back against him, and I lowered my lids, drifting back to thoughts of my dream.
Other than watching myself wandering around some forest, not much had happened in it, yet the vividness of the imagery, which remained in my mind, had me questioning the significance of the dream I'd had for the past four nights—just as I puzzled over the name I'd been greeted by for the past three mornings, as well as the past three afternoons, and the past three evenings.
The second call of the clock broke my reverie, and I hit the switch again before rolling to face Peter. Inhaling, I detected the lingering odour of the previous night's meal upon his breath, the unintended ejaculated fluid which always escaped during sleep, and each separate fragrance of the toiletries he'd used in his pre- dinner shower the evening before.
His eyes snapped open. "Are you sniffing me again?"
I smiled with my spoken, "No," and slid from the bed.
At the door, I snagged my gown and pulled it over my matching nightdress before heading downstairs. I plodded into the kitchen, switched on the kettle. With a tilt of my head, I tracked Peter's footsteps to the bathroom where he performed his morning urination at a volume only men are capable of.
By the time I made my way back upstairs, carrying a tray laden with two mugs of cappuccino and a plateful of toast, Peter had slid back beneath the duvet to await our ritual of breakfast in bed.
He smiled as I handed him the tray and climbed in beside him. "Thanks, Jem."
I reached out for a slice of toast and tried to eat without filling the bed with crumbs. Peter made no such effort. As his housewife, I'd be expected to clean it up later.
To continue reading, please visit: http://www.freado.com/read/9944/darkness-light
 FROM LATER IN THE BOOK
With a slow lift of my head, I studied him properly for the first time. Deep brown, dangerous-looking eyes sparkled back at me, his full mouth turned up at one corner to reveal a crooked smile. His arm lifted from the table, and he rubbed across hair standing thick and unruly above a face softened by an angular jawline with cheekbones to match. I followed the flight of his hand, took in the rich chocolate brown strands it ruffled, and my heart beat a little faster.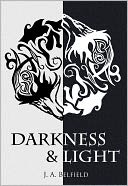 Grab your copy of
Darkness & Light by JA Belfield at:
Barnes & Nobles
The Book Depository
Amazon
Waterstones
WHSmith
 ***************************
About the J. A. Belfield
One day, a character and scene popped into J. A. Belfield's head, and she started controlling the little people inside her imagination as though she were the puppet master and they her toys. Questions arose: What would happen if …? How would they react if …? Who would they meet if …? Before she knew it, a singular scene had become an entire movie. The characters she controlled began to hold conversations. Their actions reflected the personalities she bestowed upon them. Within no time, they had a life, a lover, a foe, family … they had Become.
One day, she wrote down her thoughts. She's yet to stop.
J. A. Belfield lives in Solihull, England, with her husband, two children, three cats, and a dog. She writes paranormal romance with a second love for urban fantasy.
Connect with J.A. Belfield at her Website