A few weeks ago, I met Gerard de Marigny, debut author of The Watchman of Ephraim. We exchanged a few emails. I have to say, he's quite the conversationalist. 🙂 He had a few ideas he plans to share with us next time he's' around. Until, he's sharing a chapter from his novel. Thank you for the goodie, Mr. de Marigny.
Cris De Niro worked his way up to the top of the hedge fund world. Yet, all of his money couldn't protect him from losing his wife on 9/11. 10 years passed since the tragedy. De Niro and his sons relocated to a sprawling ranch near Las Vegas. Turning to his faith to overcome his anguish, De Niro now lives for a higher purpose. From a biblical passage, he reads about the "Watchman of Ephraim," a defender who kept watch over the land. De Niro decides to acquire a lackluster counter-terrorism agency in order to transform it into a modern-day version of The Watchman for the United States but there's not a moment to lose.
Aref Sami Zamani is planning a terrorist attack on American soil – codenamed "Antioch," a plot to detonate a nuke over the city of Las Vegas. The Watchman uncovers a connection between Zamani and a Mexican drug cartel but their agent goes missing before they can learn more. That's because Zamani has a spy working for The Watchman. Strange events start to unfold near the Nogales border crossing. References are discovered to something the Mexicans are calling "Noche Del Espantada" …Fright Night," but can it mean something else?
September 11, 2011 and the sun hasn't risen yet in Las Vegas or Nogales. Antioch is in motion! At the border, Noche Del Espantada has begun and there are intruders at De Niro's ranch. De Niro has to protect his sons and someone new in his life, Dr. Moriah Stevens. She too, lost her spouse on 9/11. Moriah finds herself in love with De Niro but his devotion to his wife is proving too powerful for him, even after 10 years. It's the 10th anniversary of the worst terrorist attack on American soil and unless De Niro and his new team are successful, the day will be known as "The 2nd 9/11."
Chapter 1
World Trade Center Mall
New York, New York
8:30a.m., Tuesday, September 11, 2001
(16 minutes before terrorists crashed American Airlines Flight 11 into Tower One)
The shopkeeper smiled at the handsome, well-tailored customer as she finished tying a ribbon around the box of long-stemmed roses he picked out. She noticed his wedding ring and could surmise for whom the flowers were intended. The earthy woman's ruddy cheeks glowed with satisfaction as she affixed the final touch to her handiwork – a big red bow – to the top and center of the lid.
"Will this be cash or charge?"
De Niro handed over his American Express black card as he flipped his cell phone open and hit an auto-dial button.
The shopkeeper raised her eyebrows when she examined the oddly-colored card and read the famous last name embossed onto it. After swiping it through the terminal, her blue eyes sparkled with curiosity as she handed it back to him. De Niro knew the look on her face well. He'd seen it countless times before, and though he bore little resemblance to the legendary actor with the same last name, curiosity got the better of most people.
If I had a dollar for every time someone gibed me with the famous line, "You talkin' to me …" … I can only imagine what it's like to – be – Robert De Niro.
Smiling politely, he answered her question before she even asked it.
"No relation."
Born Cristiano Stephen De Niro, De Niro had long ago given up teasing people by telling them, "We're cousins."
After deciding whether she should believe him or not, the shopkeeper flashed De Niro a knowing glance. Handing him the box, she added a little too loudly for his comfort, "I understand, Mr. De Niro."
De Niro rolled his eyes and with a few curious stares from other customers, made a quick exit from the store.
Located behind the "Twin Towers," the florist shop was nestled in the far corner of the concourse, the largest shopping center in Manhattan. The WTC Mall was also a main stop for a number of trains including the PATH that carried people into the city from New Jersey as well as the N, R, 1 and 9 lines that ran from Brooklyn and Queens to uptown. As he passed the entrance to the PATH train platform heading for the Tower One lobby, De Niro detected the familiar smell of the subway below. It brought to mind his harried youth, when he took the train from Brooklyn to uptown to go to work.
The smell of the subway and over-cooked pretzels will always remind me of Manhattan.
He hadn't been to the Trade Center in awhile but De Niro could see some things hadn't changed – his call wasn't going through – so he disconnected it and tried again. Being there brought back so many memories of when he first met his wife, Lisa. At the time, she worked for Cantor Fitzgerald, the world-famous bond house. Lisa landed her job with Cantor right out of college and worked her way up the ladder, eventually becoming the firm's chief market analyst. Lisa and Cris both knew God had a hand in their meeting despite the fact they didn't get off to the best start.
De Niro blushed with embarrassment whenever he thought about how they met. It was at a cocktail hour that kicked off an investment conference in San Francisco, where they both were scheduled to speak. He arrived late and had just walked into the reception area. Lisa greeted him and introduced herself in her usual, confident manner. He offered his hand to her and began to introduce himself, when she interrupted him with just a touch of sarcasm.
"I know who you are."
Winking, she glanced over his head and walked away. De Niro was perplexed until he noticed that he was standing directly under a ten-foot billboard poster of himself, complete with his name in bold, printed under his picture. Apparently, someone working for the event's promotion department thought it was a brilliant idea to plaster the behemoth posters all over the conference center.
After catching up to Lisa, De Niro asked her to dinner. He remembered it like it was yesterday. Before that, he was used to taking women out who were either interested in talking about themselves the whole night or turning the date into a Fortune magazine interview about his net worth. Lisa, on the other hand, captivated him from the start. She was a total knockout but didn't seem preoccupied with her looks; he liked that in a woman. Unlike the vain model-types that ordered a salad and picked the croutons out for fear of gaining an ounce, Lisa had a hearty appetite.
Not only did she polish off what was on her plate; she asked me if I was gonna finish what was on mine!
When he told her to have at it, she casually reached across with her fork, as if they knew each other forever. Savoring the fish from his dish made her flash that beautiful smile of hers. It beamed as much from her golden eyes as from her mouth and was accented with a dimple she said she inherited from her granddad. She proceeded to talk about everything except the two of them, from sports – they both loved the Yankees; he was an avid Oakland Raiders fan, she hated them, to politics – they were both conservative; she was outspoken and active, he mostly kept his views to himself, to how many kids she pictured having when she married – incredibly, they both wanted four.
De Niro recalled how the entire evening passed and she never uttered a word about what she did for a living. When he asked her why, she simply said, "That's what I do … it's not who I am." De Niro was well aware though, from listening to her speak at the conference, that she knew her stuff. In fact, he teased her that if things didn't work out between them romantically, he was interested in hiring her as a consultant. Without missing a beat, Lisa gibed back that, either way, she didn't come cheap.
Find The Watchman of Ephraim by Gerard de Marigny at: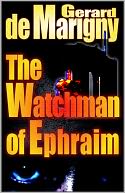 Barnes & Nobles
Signed Hardcovers and Paperbacks
***************************
About the Gerard de Marigny
Gerard de Marigny (pronounced "de-Mar-E-nee") has been a successful musician and entrepreneur and now intends to bring his passion for his faith and writing together, in his novels. During the 1980's and 1990's, Gerard was the lead guitarist for a rock band that sold many thousands of records all over the world. His band won the "Best New Video" award on MTV in1983, but a life-threatening illness (cancer, Hodgkin's Lymphoma) and an epiphany of faith inspired him to leave that lifestyle and devote himself to "living his faith."
Gerard continued writing music for TV and a movie, while branching out and starting his own businesses in the transportation and financial industries. Yet, his lifelong ambition was to bring to life righteous characters that would inspire others.
In 2007, Gerard was awarded the prestigious Fischer Family Scholarship for the Arts from Penn State University, for a 5,000-word autobiographical work he was commissioned to write.
In 2011, he completed his debut novel, THE WATCHMAN OF EPHRAIM, a political thriller which is book one of his WATCHMAN OF EPHRAIM series.
Visit Gerard de Marigny's Website