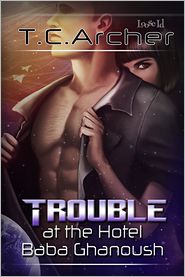 Title: Trouble at the Hotel Baba Ghanoush
Author: T. C. Archer
Genre: Science fiction, Erotica
Publisher: Loose Id
Ebook
Words: 35,000
"Enforcer Fontana Marks is on vacation undercover until she has to testify against the Track Cartel for crimes against the Galactic Coalition. But the cartel is hiding something, and Fontana intends to find out what–then make them pay for murdering Jenny, the young scientist Fontana failed to protect on a previous assignment.
The last thing Fontana intends to do while vacationing incognito on the fantasy resort Sagitariun is follow the advice of her superior. "Rest, recuperate, and find a man."
But how can a woman resist a blond, blue-eyed, chisel-jawed, great-assed man streaking naked in public when he's obviously running from someone? And why can't she to get rid of the damned trench coat she stole to rescue him?"
Available at ARe || Amazon
 || Fictionwise || B&N (Nook)
Excerpt anyone?
The man shifted, and the loose-fitting white shirt went taut across his broad shoulders. Memory of his tanned skin and steel muscle hit like a thunderbolt, and Fontana's stomach did a flip.
He grinned, a sure sign he knew he was being viewed through a one-way door. Desire rippled through her on a slow, sure wave that promised heart-stopping pleasure. She'd known good-looking men. Ray, her last serious relationship five years ago, had been gorgeous. She'd been mad for him, but the man standing outside her door had a quality about him that made her want to snuggle up against him and fall asleep.
Fontana snorted. Her body would disagree. Right now that part of her throbbed with an insistent desire to bed him—hard. Maybe then the flutter in her heart would have a say, and she'd fall asleep wrapped in his arms. That would be a welcome change to the sleepless nights she'd spent since Jenny's death. It would be a temporary fix, but she could use at least one good night's rest.
She sighed. First she'd better deal with the damned raincoat and find out how the naked man had escaped the shock troopers. Then there was the little matter of how he'd found out where she was staying.
Fontana rose and smoothed the form-fitting blouse and poly-cotton slacks she wore. "Open door," she said, and the door dematerialized.
His stare slid down her body, and her nipples tightened to a delicious discomfort—and one he couldn't miss under the millipore fabric of her top.
"Well, Mr. Long John."
His blue eyes returned to her face. "Long John?"
She stepped aside and motioned him in. "Last time I saw you, your long johnson was standing at attention."
He entered, and the door rematerialized behind him. "Give him a minute, and he'll be at your command again."
"What are you doing here?"
He wrapped an arm around her waist. "You said to look you up."
She spun out of his grasp and backed up. "How did you find me?"
"Spacer Jack's is brimming with information."
He was right. She'd figured that out the first time she'd walked in. Even a benign resort like Club Sagitariun had a dark side. Proof stood right in front of her in all its masculine glory. No. All his masculine glory had been long, hard, and ready to go in the alley. Damn shock troopers. Ten more minutes and she would have had a quick hard ride on his steel rod.
He continued to advance.
She retreated. "Where's my raincoat?"
He grasped her hand. "What do you need with a man's raincoat?"
"The owner is looking for it."
"Forget about him." He stepped closer.
"Can't."
"I came to thank you for the coat. Let me buy you breakfast."
Some offer—and not what she had in mind for jump-starting a morning that had begun four hours ago for her.
"It's not my coat," she said.
"We'll find the owner and thank him—later. We have some unfinished business."
Heat radiated from his body. Her pulse sped up. The smile at the corners of his mouth deepened. Her calves made contact with the bed. He stepped closer, grasped her hand, and pressed her palm over his heart.
Fontana ignored the warmth spreading through her and locked gazes with him. "What did those shock troopers want?"
He shrugged. "Never found out."
"They never caught you."
"I had to elude them so I could be here."
That had a certain logic she liked.
His fingers gently tightened over the hand still pressed against his heart. "You've got my heart beating like crazy."
She noted the hard muscle of his chest, under which only a regular heartbeat thumped, and pulled her hand away. "It's not nice to lie."
"I'm hurt."
She wanted to laugh. He actually did look hurt.
"Don't tell me you've forgotten all that we've shared," he said.
Now she did laugh. Fontana was startled at the unexpected relief she felt. She hadn't laughed since setting foot on Rigil IV. He cut off her thoughts by pulling her against him. His mouth crashed down onto hers. The hard ridge of his arousal dug into her stomach. She could almost believe she had a special effect on him. Almost. But that erection was just a little too ready—a little too eager—to belong to anyone but a working man.
About the Authors
T. C. Archer is comprised of award winning authors Evan Trevane and Shawn M. Casey. They live in the Northeast.
Evan puts his Ph.D. to good use by writing about alternate realities, and Shawn channels the mythology and philosophy she studied during her wasted youth into writing about exotic places and times.
 Find the Author Online!
Website | Blog | Twitter | Facebook
Giveaway Time!
Amy's Book World
Ramblings of an Amateur Writer
Simply Infatuated
A Dream Within A Dream
Reading on the Wild Side
Proserpine Craving Books
Black Hippie Chick's Take on Books &The World
A Bibliophile's Thoughts on Books
A Bit of Dash
The Steamy Side
August 23rd
A Diary Of A Book Addict
Natalie-Nicole Bates
Off the Page
Erotic Romance With a Bite…Leigh Savage
The Avid Reader
The Bunnys Review
Musings of a bookworm
Book Lover's Hideaway
Blood, Lust and Erotica
Book Club Sisters