Guess what? okay. Don't guess. 🙂 Gerard de Marigny has returned, this time for a little Q&A. Plus!!!! A little birdie told me his latest work, The Watchman of Ephraim, is up for grabs on Goodreads. If you haven't entered the giveaway, definitely do that. Ends 9/11.
So, tell us about your most recent publication.
I published my debut novel, the political thriller, The Watchman of Ephraim, in January (2011) and I'm very proud of it. It's a dream come true for me!
TWOE is a story about a guy named Cris De Niro. He's a Brooklyn, NY-born and raised, self-made billionaire who lost his wife and unborn child in the North Tower of the World Trade Center on 9/11. De Niro turns to his Judeo-Christian faith to deal with his rage. He reads a passage in the Bible about 'The watchman of Ephraim' that changes his life.
The United States is modern Ephraim in prophesy and De Niro knows that. So he decides to become the modern-day Watchman of Ephraim by acquiring a counter-terrorism firm – renaming it "The Watchman Agency."
He puts together a remarkable staff, starting with his deceased wife's brother, Captain Louis "Mugsy" Ricci, USN SEALS (Ret.)  and not a moment too soon because his agency immediately comes across a connection between a Mexican drug cartel and an Iranian businessman with ties to radical Islam.
Lots of stuff starts happening from there – one of The Watchman's agents goes missing in Monterrey, Mexico and his disappearance may be linked to a mole within the Agency. Strange events start to occur at the U.S./Mexican border. The Watchman's covert paramilitary arm, ARCHANGEL is sent down there to investigate. They team up with the head of the famed 'Shadow Wolves' Native American border patrol unit. The Watchman and ARCHANGEL figure out that something very big and very bad is planned to happen and soon … and it all culminates on the 10th anniversary of 9/11.
Meanwhile, De Niro is still coming to terms with the loss of his soulmate and wife, Lisa. His faith and his love for his two sons, Richard and Louis are all that keep him from losing himself to his rage. Things become even more complicated for him when he's introduced to Dr. Moriah Stevens, a beautiful widow who also lost her husband on 9/11. Stevens falls for De Niro and he has feelings for her but his devotion to his wife is just too strong … even after 10 years.
The 10th anniversary of 9/11 is when it all happens – when our country is targeted for another terrorist attack even more catastrophic than the original 9/11 attack – when our border is breached – and when a man who's already lost the love of his life to terrorism, has his children and himself targeted.
But this time, Cris De Niro can do something about it – and let me tell you, these terrorists will learn a lesson about tangling with a tough Italian from Brooklyn … especially when you mess with his kids!
How much of you/your life do you put into your stories?
There's actually a lot of my life in The Watchman of Ephraim, specifically because of the topic it opens with … 9/11.
My wife and I lost a dear friend in the North Tower of the World Trade Center on 9/11, Danny Afflitto. We were also friendly with others who lost their lives in the Twin Towers that horrible day. We attended a lot of funerals … too many funerals.
My anger and frustration caused by 9/11 ultimately lead to my writing TWOE. I did my best to honor the friends and families of 9/11 victims by depicting the actual event, specifically, the crashing of American Airlines Flight 11 into the North Tower, as accurately as I could.
But I wanted to do more than that – I wanted to convey some of the angst, some of the overwhelming grief that loved ones felt. I was with Danny's wife Stacey when he actually called her just minutes after the plane hit the tower. His last words to her were, "I think a bomb just went off, there's fire and smoke everywhere … kiss the baby, I love you!" Then the line went dead.
Stacey went into shock … and she didn't even realize she was pregnant with their 2nd son – a son Danny never even knew about because she only found out 3 days later. I can tell you, including my own Dad's dying in front of me (peacefully, from illness), that was the most traumatic event I ever experienced. I was overwhelmed with compassion for Stacey but more than that, I was overwhelmed with a feeling of utter helplessness. I couldn't do a thing for her, to ease her pain or to save Danny. It's something I still haven't gotten over.
In a way,  TWOE was my way of dealing with that feeling of helplessness. Writing a work of fiction falls far short of truly comforting the people who lost loved ones – it doesn't bring any of them back and it doesn't punish the people who were responsible … but it's all I can do.
Back to your question, in order for me to convey some of the emotion of that day – in order to drop the readers into that overwhelmingly powerful moment, I felt I had to write from the mindset of a husband who lost his own wife and unborn son in the Tower. I had to assume the role of the lead character Cris De Niro and I had to kill his wife … my wife, Lisa.
It was pretty radical, especially since I didn't tell my wife, who's one of the editors, or my sons … who became pretty upset when they read that mommy died in the book.
Sounds like you get pretty emotionally involved in your writing. Makes for a powerful piece. Which of your characters do you relate to most?
Cris De Niro and I both have the same mindset and worldview. We're from the same old neighborhood, like the same food and drink and both moved into the Las Vegas valley.
The difference is, he's a billionaire who could do something about the things that frustrate me most in the world.
He's also better looking. (grin)
What's the hardest part of the writing process?
The hardest part for me is actually opening the Word file and getting to work. Once I do, I'm okay, but for reasons I haven't fully understood – I seem to procrastinate.
I've been mentored by a great writer, Dean Wesley Smith, through his excellent blogs and from personal communications. One of the things he told me I needed to do in order to become successful is to turn out 3-4 novel-length works per year. So, I'm continually working at removing obstacles to writing every day.
I'm totally with you with the procrastination bug. What's the easiest part of the writing process?
The easiest part for me is coming up with storylines and characters – that's a blessing from God.
My brother and I had a harsh upbringing. We dealt with it in different ways. He escaped by never being home. I was a homebody, so the only way for me to escape was to invent storylines and disappear into them. There always seemed to be a hero-type character in my storylines that could do the things I couldn't do – take on the bullies in the world and save those in distress.
I've been inventing these stories my whole life – the difference is now, I writing them down and sharing them with others – but I'm never at a loss for storylines or characters … the world is full of characters to me.
With hindsight being 20/20, is there anything you would have changed with your publishing journey?
Yes, definitely – I would have started MUCH younger! I've been writing bits and pieces of the stories in my head for most of my life but I never had the confidence to publish them. I made some halfhearted attempts in late 1980's but that was it.
I spent most of my life working at jobs that I really didn't enjoy, feeling like I was meant to do something else – something that I'd love to do. I can't believe I didn't realize that my calling was to write literary works. Other than my Faith and my family, nothing satisfies me more.
If it weren't for my wife Lisa, back in June 2009, literally scolding me to "finish a book and PUBLISH IT!" because she could see how depressed I was becoming, I wouldn't even be here. I published my first work, TWOE this January, at 47 years old. <sigh> So many years wasted … but at least I'm doing what I love now.
What are you working on now?
I'm completing my second novel right now. It's the sequel to TWOE, the 2nd installment in The Watchman of Ephraim series, called Signs of War.
It'll be out by September ('11) … I'm very excited about it!
Then I'll immediately start work on the third in the series. The storyline for that one is already shaping out. I'm intending to get that one out by either December ('11) or January ('12).
Thanks for asking!
How about some quickies!
Pencil or Pen: Pencil
Print or Cursive: Cursive
Pantser or Plotter: Plotter
Favorite Candy: Anything with caramel in/on it
Worst habit: My wife says I'm a control freak – I guess I'll go with that. (grin)
This was definitely the most heartfelt interview I've had the opportunity of conducting. Thanks for sharing with us, Gerard.
***************************
About the Gerard de Marigny
Gerard de Marigny is the author of the geopolitical thriller, The Watchman of Ephraim, Book 1 of THE WATCHMAN OF EPHRAIM series. The sequel, Signs of War is scheduled for release in September 2011.
Gerard de Marigny resides in the beautiful foothills of Las Vegas, NV with his wife Lisa and his four sons. When not bending an arm with friends at the local pub, he's putting to paper the stories and characters that are alive in his mind.
Connect with Gerard de Marigny online: Website, SelfPubber's Pub, Facebook, Twitter, Goodreads, LinkedIn, and MySpace
Find The Watchman of Ephraim by Gerard de Marigny at: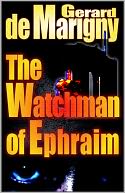 Barnes & Nobles
Signed Hardcovers and Paperbacks
And don't forget to enter the giveaway at Goodreads!