My writing buddy, L.K. Rigel, author of the Ex Post Apocalypto series has returned to share the goods about herself. 🙂 Let's see what she has to say. 🙂
Tell us about your most recent publication.
Bleeder is a romance set in a future fantasy world where human beings have nearly destroyed humanity so the gods return and impose a world order based on the old pre-Enlightenment Great Chain of Being. The story is female-centric in that, though there are major male characters, the women carry most of the action.
I wrote Bleeder partly as a reaction to Margaret Atwood's The Handmaid's Tale. In a world where female fertility was rare, what if the women called the shots and exploited the situation to their advantage? Frankly, I wanted to create a perfect female fantasy: a world where women are highly valued and rewarded for doing something that comes naturally – with no strings attached, no pain, no aging, no gaining weight.
I failed! There is plenty of pain in Bleeder. And, as with any kind of surrogacy, the issues of bondage, slavery, and free will were unavoidable. But then, those are fascinating to me. The series still needs to explore the proof of service children and their awakening desires for autonomy.
Give us a brief description of a story you have hidden in your skeleton closet? And will it ever see the light of day?
I once got the actor Peter Coyote's wife pregnant. I must find a way to use that in something.
How much of you/your life do you put into your stories?
I named a character in Space Junque after an old boyfriend who broke my heart. I was quite satisfied with what happened to this character.
Which of your characters do you relate to most?
I want to be Mal, the heroine of Bleeder, and I think Char of Space Junque is the happiest (and the most satisfied, heh). But I relate most to Durga who shows up in Space Junque and shares heroine honors with Char in Spiderwork. She's the character wearing the dress on Spiderwork's fabulous cover.
Durga sees everything in black-or-white, right-or-wrong. She says things like "don't cry" and wonders why people just don't cry. It isn't that she doesn't feel things; it's that she's got so many problems, so many stupid little details to worry about so every one else can live their lives, that she doesn't have time to play. Khai gives her the gift of enjoyment – to enjoy music, sex, love – and to her credit she accepts! I'm glad that Durga and Khai will show up again in Copperhead.
For you, what's the hardest part of the writing process?
Finding big enough chunks of time to work in one sitting and let the juices flow. Writing in small time allotments kills the life in my writing.
With hindsight being 20/20, is there anything you would have changed with your publishing journey?
I would have decided to self-publish sooner. It's the only way to go. I love it.
Do you have any advice for other writers?
Tell the truth in your writing, even if – or especially when – it's embarrassing or politically incorrect. Be nice. Be forgiving – of others and of yourself. Say yes when you can, no when you must, and learn to recognize the difference.
Anything special you'd like to say to readers?
Thank you! Thank you for reading my stories. Thank you for leaving reviews at Amazon and B&N and Goodreads. Thank you, AnnaM for your comment at Goodreads about Space Junque. I read it yesterday, when I felt like no one was ever going to read any of my books again, and it changed everything. I have no idea who AnnaM is, but I'm so grateful that she took the time to comment. Authors can't exist without readers, even if we never "really" meet each other.
What are you working on now?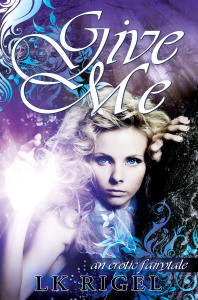 Right now I'm working on a novella not in the Apocalypto universe called Give Me. It's an erotic fairytale about lust, obsession, possession, and reincarnation. I'm having a blast with it.
How about some quickies!
Pencil or Pen: Pen
Print or Cursive: Cursive
Pantser or Plotter: Plotter
Favorite Candy: chocolate parfait Nips
Worst habit: chocolate parfait Nips
***************************
About the L.K. Rigel
LK Rigel lives in California with her cat, Coleridge. She was once a singing waitress, scored the independent science fantasy karate movie Lucid Dreams, and was a reporter for the Sacramento Rock 'N Roll News. Her BA is in humanities and religious studies. Her work has appeared in Literary Mama and Tattoo Highway. Her short story "Slurp" will appear in Anne Frasier's 2011 Halloween anthology Deadly Treats published by Nodin Press.
Find L.K. Rigel online at her Website, Amazon
, Barnes & Nobles, and Smashwords.
If you don't already have the Ex Post Apacolypto series, you can find them at the following locations: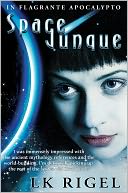 Space Junque is available at:
S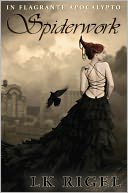 piderwork is available at: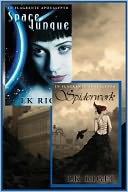 Or get both Space Junque & Spiderwork in a 2-pack deal at: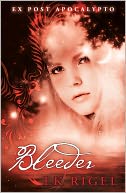 Bleeder is available at: