Lindsay Buroker
Tell us about your most recent publication.
I published Flash Gold, a steampunk novella set in the Yukon during the gold-rush era. It's my experiment with 99-cent fiction. It's 18,000 words, so a lot shorter than a novel, but I would love to turn it into a series.
One reviewer said it was a fun story that felt like the pilot to a television series, setting things up for future adventures with the heroes, and that sounds about right. With ebooks, you're not constrained by word-count conventions, and lots of folks are putting out shorter works. It's a lot easier to write, edit, and review a 20,000-word story than a 100,000-word one!
Here's the blurb for Flash Gold if you're interested:
Eighteen-year-old Kali McAlister enters her steam-powered "dogless sled" in a race, intending to win the thousand-dollar prize and escape remote Moose Hollow forever. The problem? Fortune seekers and airship pirates are after her for the secret to flash gold, her late father's alchemical masterpiece.
With her modified rifle and a pocketful of home-made smoke bombs, Kali wouldn't normally hide from a confrontation, but taking on a whole airship single-handedly is a daunting task. Unfortunately, the other racers won't assist her–they're too busy scheming ways to sabotage her unorthodox sled.
When a sword-slinging stranger shows up, wanting to hire on as her protector, she's sure he has ulterior motives, but he's the only one interested in helping her. The question is…why?
Give us a brief description of a story you have hidden in your skeleton closet? And will it ever see the light of day?
I've never been a big reader of the paranormal romance genre, or any fantasy set in the modern world, but I've been wanting to write a character who shares some of my modern Earth interests. Can tennis and gardening work in a monster-filled adventure/romance/mystery set in the Seattle area? Hm!
I couldn't bring myself to write something as typical as vampires and werewolves, but I do think a hunky Legolas-esque elf might make an appearance. When I was a kid, I always liked to play elves in D&D and MUDs, and they haven't entirely lost their appeal for me.
That said, I want to do more Emperor's Edge novels and more Flash Gold stories before I branch off in yet another direction.
How much of you/your life do you put into your stories?
My interests often make an appearance in the plot or world-building. Flash Gold is set in the Yukon and involves a dog sled race, all because I enjoyed Jack London as a kid and watched more movies involving dog sled races than I can remember. And gold…well, look at what gold is doing in the market, right now! (I like investing too.)
I'm also intrigued by a lot of the 1800s steam-powered machinery, so most of my stuff has some steampunk flair, at least insofar as inventions and machines go.
As far as personal relationships and my own history, I don't think much of that gets incorporated. I prefer to write about stuff I'm currently interested in rather than things I've lived in the past. An exception might be cool things I've seen or done that stuck in my head. There's a pyramid in the middle of the capital city in my Emperor's Edge world, thanks to my trip to the Mayan ruins in Mexico.
Which of your characters do you relate to most?
I'll go with Amaranthe, the main character in The Emperor's Edge. She's outgoing and charismatic, and I'm a socially awkward introvert, but she's a total schemer, and I am too. She doesn't plan for the future; she plots for it. The fun part is when she talks all these big, burly guys into helping her with her plots!
As far as personality goes, I may be more like Kali in Flash Gold. She has a quick, sometimes sarcastic tongue. She's tough on the outside, but she's mostly hiding the fact that she's vulnerable on the inside. I can relate to that. 😉
For you, what's the hardest part of the writing process?
Not getting distracted by the internet. 🙂
No, really. Every time the power or internet goes out, it's amazing how much writing I get done. Sometimes I take a notepad and pen to the coffee shop, so I'm forced to write without the distraction of email and Twitter.
For you, what's the easiest part of the writing process?
Dialogue. 🙂
I loooove having my characters trade barbs. Of course, I always have to go back and edit things out, since they'll ramble on about things unrelated to the plot if I let them, but it's hard to cut some of that stuff!
With hindsight being 20/20, is there anything you would have changed with your publishing journey?
I finished The Emperor's Edge more than a year before I ended up e-publishing it (I didn't have a kindle back then, and I wasn't all that aware of the impending ebook revolution). The novel sat on my hard drive after that because it didn't sound like the sort of story agents were looking for (high fantasy is apparently not in these days).
I really wish I'd researched e-publishing more back then (2009) and gotten that first book online. I can't complain with my progress thus far (after four months, I've been fortunately enough to recoup my initial expenses, and I'm making a modest part-time income), but you know there's a lot more competition out there now. Those early adopters definitely have a leg up on us newcomers! 🙂
What's your favorite part about the publishing process and why? (consider the initial book concept all the way through marketing, and beyond)
I enjoy writing the first draft and seeing where the adventure will take my characters.
And then–this will sound crazy–I kind of like the online marketing stuff. Oh, not all of it, but it's fun doing guest blog posts, interviews, and working on my own blogs. It's even more fun seeing the rewards as sales slowly increase. I'm grateful to all the folks who have tried my stories thus far, and I hope many more will download them in the future. Or, you know, right now! What's holding you back? *g*
How about some quickies!
Pencil or Pen: Pencil
Print or Cursive: Print
Pantser or Plotter: Plotter
Favorite Candy: Anything involving peanutbutter and chocolate
Worst habit: Staying up way too late and eating too many desserts. 😉
***************************
About the Lindsay Buroker
I've been writing fantasy novels and short stories since I was seven. I've been finishing them since… well, that's a more recent development.
I'm a professional blogger for my day job, and I live in the Seattle area ("area" is code for "I couldn't afford a house within twenty miles of the city limits and my neighbors have alpacas"). I have two vizslas who are as spoiled as most people's kids. Occasionally they let me leave the house to play tennis, go to the coffee shop, or take a yoga class.
Connect with Lindsay Buroker on her website!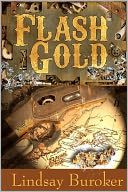 Get your copy of Flash Gold by Lindsay Buroker at:
Find Emperor's Edge at:
Find other works by Lindsay Buroker at Amazon, Smashwords, and Barnes & Nobles