Rachel Haimowitz has joined us today for an interview. If you haven't checked out the excerpt she left last Tuesday, shame on you. 🙂 You can head there after the interview. For now, Welcome Ms. Haimowitz… leave a comment, bombard her with questions. 🙂
Tell us about your most recent publication.
Where He Belongs, a collection of vignettes in the Anchored: Belonging world, just released on July 1. (It's not necessary to have read Anchored to follow Where He Belongs.)
I'm a big fan of vignettes, and as both a reader and a writer it's exciting to explore these little snapshots in time, little morsels of a character's life that help you understand what shaped him. In Where He Belongs, you essentially get to watch Daniel–the slave protagonist in Anchored–grow up. The stories track him from the age of eleven, when he first gets sold to NewWorld Media; through to after he's given his own show. I hope fans of Anchored will find these glimpses into Daniel's past quite satisfying, and that readers approaching the Belonging 'verse for the first time will be temped to learn more 🙂
Give us a brief description of a story you have hidden in your skeleton closet? And will it ever see the light of day?
I started my very first novel when I was 16, and "finished" it around my 24th birthday. It's a MESS, mind you, but it holds a special place in my heart for sure, and one day I'd like to pull it out and fix it. It was this sprawling post-apocalyptic thing where America turns into an iron-fisted theocracy ruled by–supposedly–the second coming of Christ. Even though of course the guy is totally not. Society has striated into castes, with the majority more or less enslaved to a ruling elite. The book follows a young man in the lower caste who's lost his faith and struggles terribly to find place and purpose in a world where faith is all people like him have.
It was much too ambitious for a first novel. I didn't have the skills I needed to make it work–not even close. Now I think I might be nearly ready to dust it off, but I've got a list of projects a mile long now so I'm not sure if or when I'll ever manage to work in what's essentially a scrap-and-rewrite.
How much of you/your life do you put into your stories?
Little things sneak in here and there. That's inevitable, I think. But I tend to write in the speculative fiction genres, and I tend to write about extraordinary men, and obviously none of those things are a part of my real life, so there's quite a bit of disconnect (and research) between myself, my life, and my books. But sometimes pretty big things become a part of it. For instance, I co-wrote a cyberpunk novella called Break and Enter with Aleks Voinov (releasing in December with Samhain), and one of the two heroes in B&E is a paramedic. I ran on an ambulance for years, so of course many of his skills and experiences were lifted from my own past experiences. In that particular case, even the rig (ambulance) number, some of the street names, and the location of the squad house were lifted right from my old stomping ground–it was my way of paying homage to the crew who gave me the skills and experience I needed to co-write that story.
For you, what's the easiest part of the writing process?
Breeding new plot bunnies. I go to bed with two story ideas in my head, and when I wake up, there are, like, ten more. They're busy little things! The problem with this is that I'm very easily distracted by new things, so I'll be in the middle of a book under deadline, and a bright new idea will pop into my head Athena-style, fully formed, and wave its arms and jump up and down and scream, "Look at me, I'm SO SHINY!" And I'm a sucker for the shiny. So while it's great that I'll never run out of ideas, it can make writing the current one kind of tough.
Anything special you'd like to say to readers?
THANK YOU. I know that's not terribly original, but it sure is heartfelt. I'm slowly on the path to being able to write full-time and actually maybe be able to pay my bills with it, and that wonderful gift is entirely because of readers who lay down valuable time and money to read, buy, and spread the word about my books.
What are you working on now?
A few things, actually. I'm in the middle of a short story for a Storm Moon Press anthology called The Weight of a Gun, which focuses–surprise surprise–on gunplay during sex. I'm sure it will also surprise you all to learn that mine's pretty dark 😉 But it's definitely sexy.
I'm also diving into the Anchored sequel, which I'm quite excited about, as I'll be exploring the broader world–something I didn't really have an opportunity to do in Anchored–and also exploring some more of the politics of a slave-holding culture. Daniel will finally get to come into his own, and to learn for the first time what it's like to choose love freely.
What's your favorite part about the publishing process and why? (consider the initial book concept all the way through marketing, and beyond)
Release day! 😀 It's incredibly stressful, of course–you're worried whether it will sell and whether people will like it, and you're mired in what feels like 24/7 promo to get the word out (because quite possibly the only thing worse than negative reviews is obscurity). But it's also incredibly exciting, that process of releasing your baby into the readers' hands, getting out there and being a part of a new conversation, sharing your excitement with the world. And incredibly satisfying, as well, to see what might be three or six or even twelve months of hard work all coming to that one moment, that one day. Just fantastic.
How about some quickies!
Pencil or Pen: Pen
Print or Cursive: Print
Pantser or Plotter: Pantser
Favorite Candy: White chocolate
Worst habit: Everything to do with my (non-existent) sleep schedule
***************************
About the Rachel Haimowitz
Rachel is an M/M erotic romance author and a freelance writer and editor. She's also a sadist with a pesky conscience, shamelessly silly, and quite proudly pervish. Fortunately, all those things make writing a lot more fun for her . . . if not so much for her characters.
She originally dipped her toes into cable news and book publishing, decided the water was cold and smelled kinda funny, and moved on to helping would-be authors polish and publish, writing for websites and magazines, and ghostwriting nonfiction.
Her first novel, Counterpoint: Book One of Song of the Fallen, released in August of 2010 with Guiltless Pleasure Publishing. Things pretty much spiraled from there, and now she plans to release four or five new stories each year. She loves playing with shorts and novellas just as much as sinking her claws into the worldbuilding fun of a novel.
When she's not writing about hot guys getting it on (or just plain getting it; her characters rarely escape a story unscathed), she loves to read, hike, camp, sing, perform in community theater, and glue captions to cats. She also has a particular fondness for her very needy dog, her even needier cat, and shouting at kids to get off her lawn.
You can find Rachel Tweeting as RachelHaimowitz, chatting in the Goodreads forums, and blogging at Rachel-Haimowitz.blogspot.com. She loves to hear from folks, so feel free to drop her a line anytime at metarachel (at) gmail (dot) com.
***************************
Don't miss the other events for Ms. Haimowitz's release party. Giveaways, excerpts and more, oh my! Hit the schedule here.
You can find works by Rachel Haimowitz at the following locations:
Where He Belongs:
Storm Moon Press *** Preferred Point of Sale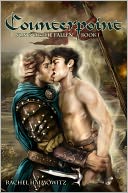 Counterpoint: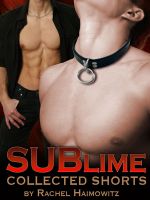 Sublime: