Yesterday marked the end of my first giveaway. I have to admit the turn out was rather…well. I had enough for a winner and that was plenty! Without further ado.
Congratulations! Please contact me by May, 4, 2010 with delivery details, and I'll get a copy of "A Hunger Like No Other" by Kresley Cole in the mail to you.
**********************
As promised, I have another contest! I've wanted "Pleasure of a Dark Prince" by Kresley Cole for a while. I've entered contests and hoped. Now I'm tired of waiting. I've ordered my own copy. Woot! To celebrate my decision, I'm giving another away to one lucky winner.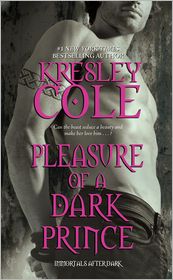 To tempt you, the teaser from Ms. Cole's website:
A DANGEROUS BEAUTY
Lucia the Huntress: as mysterious as she is exquisite, she harbors secrets that threaten to destroy her—and those she loves.
AN UNCONTROLLABLE NEED
Garreth MacRieve, Prince of the Lykae: the brutal Highland warrior who burns to finally claim this maddeningly sensual creature as his own.
LEAD TO A PLEASURE SO WICKED. . . .
From the shadows, Garreth has long watched over Lucia. Now, the only way to keep the proud huntress safe from harm is to convince her to accept him as her guardian. To do this, Garreth will ruthlessly exploit Lucia's greatest weakness—her wanton desire for him. . . .
To enter, I only need a few things from you. If you win, I'll be in contact with you for delivery details.
Comment on this post telling me which book you'd like to see next in a giveaway.
Become one of my Google Friend Connect Followers. I just put the widget up, so be the first! Or rather second after me. 🙂
Fill out the form.
Extra entries
Follow me on twitter +1 (leave @twittername)
Tweet this post +1 (leave link)
So if you enter this contest you should end up with 1-3 entries. As I mentioned, I have a hard time counting higher. 🙂
Contest ends Monday, May 3, 2010. Spread the word!
US residents only.. Once again, I love non-US residents, but have no clue how to do international contests. Still looking for someone to coach me. If you're privy to international contests, leave a comment or send me an email with details on how to get it going. If it doesn't cost an arm and a leg, perhaps the next contest will be international.
Available at Barnes & Nobles || Amazon
 || The Book Depository || Kobo || iTunes