So this week I'm going to blah about my progress a bit differently. Between my five year anniversary and Memorial weekend, I honestly didn't feel the drive to do much of anything but relax and enjoy. Tonight, I'm really not in the mood to focus on my failures… and trust me, I have plenty. 🙂 Let's just focus on the good, shall we?
I edited two scenes of my novella I Loved You First. I'm getting to the part where I need to start rewriting to close a gap. I'm thinking this next scene might be the place. Yes… the more I think about it, the more I believe I've hit the right spot. So we might have some replotting to do also. For those not familiar with this novella, below is the working blurb:

My best friend was more than just a best friend to me. Three words summed it up: I heart him. I'd never tell him though. I wasn't stupid. Besides, what he'd told no one but me was a little something I wished I could forget… or ignore. He was gay. I guess gay wouldn't be so bad if I wasn't so in love with him. Now it was just cruel.
Stereotypes run amok in this college love story: Parties, alcohol, hookups, and breakups. Alexandria Carmichael may find it a bit much as she deals with the unreturned love from the boy who completes her. When all is revealed, not only does she risk losing her best friend forever, but also herself. Without her childhood companion for support, Alexandria takes a journey of self-discovery but fears what she'll find at the end.
I encourage all to add it  to your Goodreads list. 🙂
I've been working on a secondary website. Man… I forgot how difficult it was getting a website up and running. Not sure when that'll go live… I have a LOT of work to do with it. Speaking of websites, I did a few link updates on this blog. Slow and steady… eventually the behind the scenes will be exactly as I want.
My 2011 Reading Challenge is still going well. I'm currently two books ahead of schedule. I decided to start The Story of Beautiful Girl by Rachel Simon. It's quite different from my normal paranormal romance reads, but I'm still enjoying it. The style brings to mind stories like Of Mice and Men and Flowers for Algernon.
Reena
has read 18 books toward her goal of 60 books.
In other news!!!!
Control Freak is still free on Amazon Kindle. Now you can find it on B&N Nook for free also.
And I'd be crazy not to mention that Berani and Eric want you to purchase a copy of Shadow Cat. 🙂 You can find them at the following locations: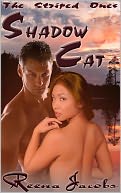 Add Shadow Cat to your Goodreads list.